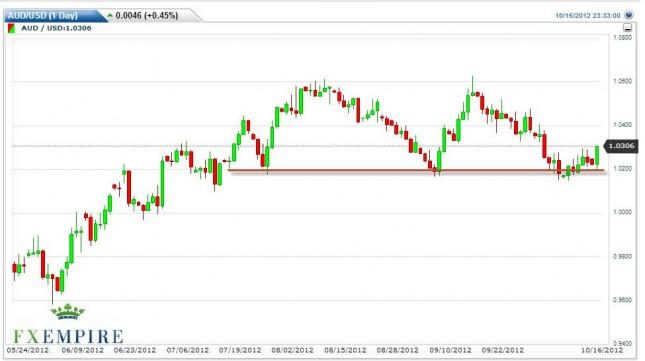 The AUD/USD pair rose straight up during the session on Tuesday, bouncing off of the 1.02 level and breaking the 1.03 handle. This was our signal to consider going long of this pair as we think we will simply continue to consolidate between the 1.02 and 1.06 levels.
With the Federal Reserve pumping out more money than ever, this should continue to weaken the US dollar against commodities, and by extension commodity currencies such as the Australian dollar. Granted, there are at least two expected rate cuts out of Australia over the next six months, but the interest rate differential will still favor the Australian dollar over the US dollar.
Gold markets are going quite well, and look extremely healthy. With this being said, the Australian dollar typically follows the path of gold in this should continue to propel this market higher, or at the very least keep it more buoyant than most people would expect. In fact, as commodity currencies go, the Australian dollar has a little bit of a disadvantage and the fact that we have the rate cuts but the gold markets seem to be more than willing to step in and give traders reason enough to go long.
Looking forward, we expect this 400 pip range to hold for the immediate future. In fact, it would not surprise us if we were still in this range at the end of the year. Knowing this, we are more than willing to go long at this point as we feel the uptrend is still intact and the consolidation range should hold. This gives us a nice 300 pip possibility for gains. On the downside, we are only risking about 100 pips, which of course is a three to one risk to reward ratio. Trade like this are ones the traders will take day in and day out, and this is why we think this trade will actually work. Certainly, there are traders on desks around the world that realize this is a three to one opportunity and it is with the overall trend.