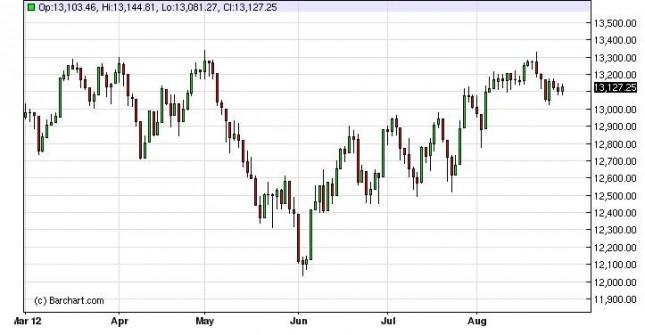 The Dow Jones Industrial Average did very little during the Wednesday session as American traders sit and wait for the speech by Federal Reserve Chairman Ben Bernanke at the Jackson Hole, Wyoming meeting on Friday. There will be special attention paid to whether or not he mentions any chance of further quantitative easing.
It is believed that currently the market has at least some type of easing priced in, and as such there is a real risk to the downside. However, it does look like we are fairly bullish of the moment and must recognize that the trend is decidedly up since June. Because of this, we need to pay special attention of the reaction of the market, and also the next major support area which is currently at the 13,000 level.
It is below the 12,900 level that we begin to think about selling. This can be done through the Dow Jones futures, or even just shorting some of the bigger industrials such as US Steel and other economically sensitive companies. There seems to be a slowing down around the world, and as such we think that the central banks may trying something, but the question then becomes whether or not it is strong enough to placate the markets who seem to be addicted to Federal Reserve easy money.
On the upside, if we get above the 13,300 level on a daily close, we have to admit that the market is going much higher. If that's the case, then we would go long on a daily close as it would show momentum is accelerating to the upside in the stock market. However, you have to remember that the Dow Jones Industrial Average is made up of a lot of blue-chip stocks; it is such can actually get a little bit of a safety play involved as well. It just simply depends on which companies rise overall. Nonetheless though, we do feel that the 13,300 level is a natural area that we could see more buying done if the market can sustain a move above it. Otherwise, we are waiting until we get a daily break below the 12,900 level in which to sell.