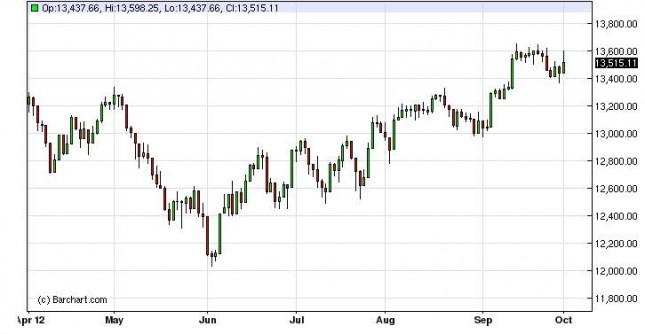 The Dow Jones Industrial Average had a bullish session on Monday, but gave back much of its gains once it hit the 13,600 area. This area had acted as resistance previously, and as such it looks like the buyers are going to have a hard time to break above this. Nonetheless, this area also seems to be the top of the consolidation area, and as such we think this market will continue to consolidate going forward as we await the employment numbers out of the United States on Friday.
This means that the 13,600 level will more than likely be the ceiling in this market, at least until the Friday announcement. On the same token, it looks like the 13,400 level will offer support as well. This suggests that we will have a very titrating week, and that makes sense with all of the headline risks coming. Because of this, we feel that playing the futures market as a range bound market may be the most equitable position you can take at the moment.
It will be much easier to get in and out of the mini sized Dow Jones futures as we reach the top and bottom of this 200 point range. There is the possibility that we could break a bit lower, but we don't necessarily see much of a chance of getting below the 13,200 level, as it would also coincide with a bit of a trend line that this market has been following since the early part of June.
At this point time, it would be very difficult to pick out a particular stock that you should purchase in this average. This is mainly because of the jobs number, and the fact that the markets will all be trading on sentiment and nothing else over the next couple of days. If you do find yourself needing to buy stocks, by all means the dividend paying ones will be your best bet over time. This has been the way for the last couple of years, and we expect that trend to continue.