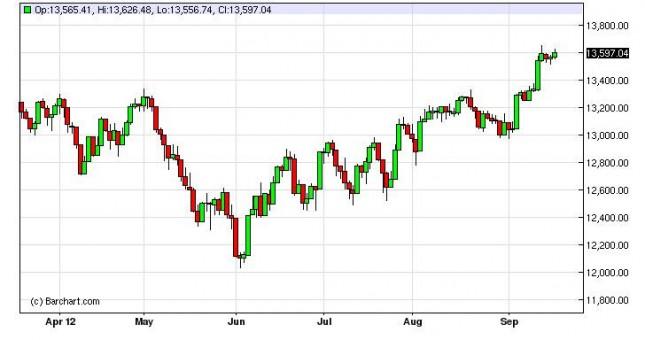 The Dow Jones had a slightly positive session on Wednesday as traders continued to tread water right around the 13,600 level. In this particular area, we have seen a bit of resistance, and it could be noted that we are at the top of the up trending channel that the market has been roughly following since the beginning of June.
With the Federal Reserve promising more quantitative easing for as long as the eye can see, it does make sense that equity markets in general would rise. However, we have seen quite a bit of gains over the last couple weeks, and it simply looks like we are trying to consolidate the position at this point in time. After all, even the most bullish of markets will take a breather every once in a while.
In the Dow Jones Average you have plenty of blue-chip stocks to choose from that are household names. We prefer the Dow Jones stocks the carry a hefty dividend and are well-suited to take care of a simulative environment. One of her favorites right now is Caterpillar, as the Chinese looks set to embark on yet another round of easing that will certainly fuel more construction, whether it is needed or not.
There are many other countries around the world will be looking to expand their infrastructure as well, and although Caterpillar isn't the only name in town, it certainly is a much larger company and its global footprint than Kamatsu, its biggest challenger in Asia. Also, it could be said that with the current tension between China and Japan, the Chinese may be more apt to buy Caterpillar machinery.
We also like other names that are simply "too big to fail." Anything that pays a decent dividend these days is going to be considered a possible play, simply because of the fact that bond yields are so low. By pushing the bond yields so low, the Federal Reserve has essentially made investors go out and look for yield in other places. Dividend stocks have become a proxy for what used to be considered "safe investments."
Because of this, we think that the Dow Jones will continue higher, but we could see a little bit of a pullback. If that's the case, we would be interested in buying ETFs that follow the index as it helps smooth out a lot of the volatility from one name to another. When played correctly, these types of up trends can be quite lucrative as long as you are getting some type of dividend, or at least are not leveraging yourself too high. It is because of this, that we are not interested in the futures markets at the moment.