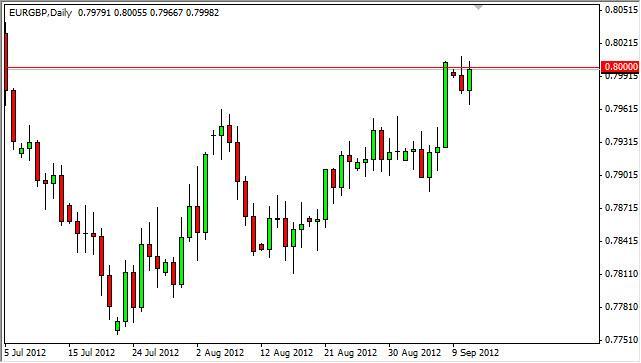 The EUR/GBP pair rose during the session on Tuesday, stopping at the 0.80 handle. After the massive move that we solve on Friday, this is a fairly strong signal that if we can get above the Monday highs, despair should continue much higher. We see the next 100 pips as being almost a given if that does happen.
0.81 becomes some type of "line in the sand" as it would be a point where we would think this pair should continue much higher. Looking at the spare, we can see no reason to think why the British pound should be punished as such, so this almost has to be a bit of a short covering rally. As the Euro is only about 200 pips below serious resistance against the US dollar, we think this run will be somewhat limited, although it is impressive.
As a short-term trader, anything above 0.8020 could be a signal to buy this pair for a 50 pip gain or so. Nonetheless, we do think eventually the downtrend continues in this pair as the British pound look so strong.