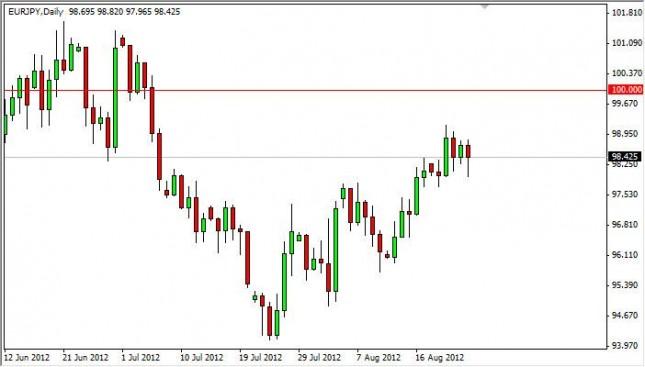 The EUR/JPY pair fell during most of the Friday session, but bounce in order to form a hammer. The 98 level does look like it's trying to be supportive at this point in time, but what we have to be concerned about is the fact that the weekly chart looks very bearish at this point in time. In fact, the weekly chart has a shooting star on it that looks very imposing, and as such this hammer that we printed on Friday isn't enough for us to go long now.
The market is currently just inside the massive resistance area from 98 to 101 that has been keeping this pair down for some time. The market is also towards the top of the channel that is been moving in, and as such it looks like a pullback should be in store.
On a break below the hammer on Friday, we think that this market should continue much lower. This would be a break of the weekly signal as well, so longer-term trader should get involved also. This should move the market back down to the 95 level, and as such we think that the Euro looks very vulnerable at this point in time.
It should also be noted that the Euro looks very vulnerable against many other currencies at the same time. A lot of times the Forex markets will work in this way, as one particular currency looks either strong or weak, and this is one of those times. The bottom of the channel could provide some type of support if we do break down, but should only be minor. After all, the trend is decidedly down, and very little has changed in the European Union to make people more comfortable buying the Euro or more importantly - European bonds.
With all this in mind, we are more than willing to sell this pair if we get that breakdown. As for buying, we need to clear the 101 level in order to feel comfortable as there is so much noise above.