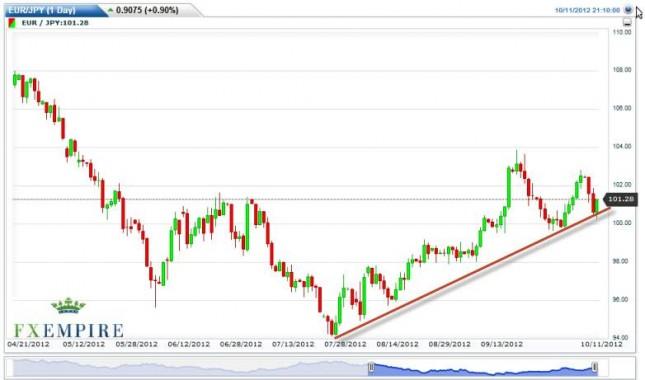 The EUR/JPY pair rose as it bounced off of the uptrend line on Thursday. The market is closing above the 101 handle now, and as such it does look like bullishness is trying to return. The Bank of Japan continues to work against the Japanese yen, and as such in a "risk on" environment, this pair should end up doing fairly well.
Looking at the charts now though, we can see a potential triangle forming. With this being said, it is possible that perhaps we are looking at tighter and tighter ranges going forward. We also see a triangle being formed in the Dow Jones, which of course is another risk asset. We think there is a move coming soon, but it may not show itself for a couple of sessions.
If we do not make a new high, we would become very concerned at that point as it would suddenly bring to the forefront the possibility of a descending triangle sitting right on the 100 handle. If that were to come to pass, this of course would be a very negative sign for this pair as it would more than likely trying to break down to the 96 handle.
It doesn't exactly take a whole lot of imagination to think of a scenario where the Euro starts to selloff. It will only take one errant headline or perhaps some type of comment from a Finance Minister on the continent in order to start selling again.
We do however see a ton of support at the 100 handle. Absolutely must break through not only 100, but even the 99 handle for us to seriously consider selling at this point. The candle for the Thursday session does suggest that there is a bit of a fight in the buyers side currently, and as long as that's the case we think this pair will continue to grind higher, albeit through choppy seas. We are not interested in selling until we get below that 99 handle, and as such we are currently looking for short-term hammers and other supportive candles from which to buy this currency pair.