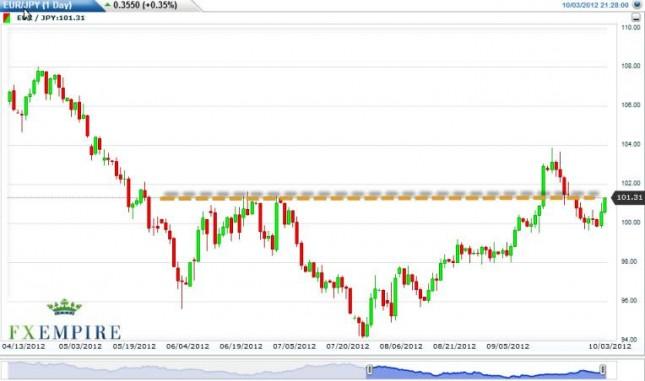 The EUR/JPY pair rose during the session on Wednesday as the market went straight up. In fact, this currency pair is currently on the cusp of breaking out and to the upside for an attempt to reach the 105 level. As far as we can tell, the 100 level is a bit of a floor in this market, and as such we are willing to buy pullbacks every time they happen and show signs of support until we break that level to the downside.
With the Bank of Japan working so feverishly against the value of the Yen, it makes sense that currencies around the world will continue to gain against the Yen in general. The 104 level could be a bit of a problem, but longer-term the 105 level seems to be the real target.
Going forward, we expect the "risk on" rally to heavily influences market and send prices much higher. As the superbikes around the world continue to expand their monetary policy, this will of course have traders looking for higher yielding assets, and this of course does have a positive swap at the end of the day. While it isn't a massive amount of interest that is paid, it is positive interest and that's enough to attract quite a bit of money in this type of environment.
We should also mention the fact that the bounce from Tuesday was actually off of not only the 100 handle, but the 100 day moving average. We think this market will show signs of brilliance at times, but could be a bit of a back and forth kind of grind higher. The Euro continues to be favored as the world suddenly decides to bet on the fact that the European Union doesn't collapse. It is almost kind of like the "the world isn't ending" trade. As for shorting this market, we won't do so until we clear the 98 handle on a daily close. If that does happen, we would become aggressively short as this pair would begin to crumble much lower.