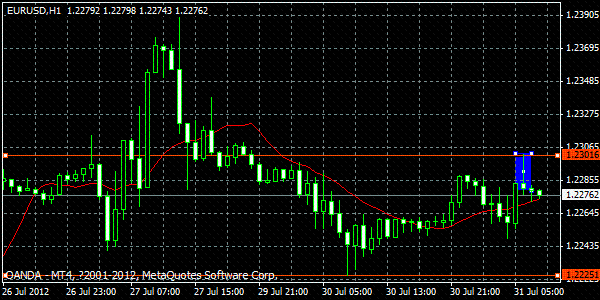 EUR/USD 1hour Price Chart- Courtesy of Oanda
As mentioned in article, EUR/USD: 27 July 2012 Why 5 Days High Could Matters today the situation has not changed much except an extreme euphoria that led this pair to go up as high as 1.2380 before the balloon popped and seeing it head back to 1.2276 at the point of writing. Just yesterday, price went to the low of 1.2225 yesterday and buying interests rallied to 1.2380 during London's open today. Just 1 hour after the open, a fresh of sellers flood the market causing this pair to retreat 30pips down. Breaking the 1.2300 level may see this pair hit the high of 27 July again. 
Throughout the past few months, price gain from stimulus news always went crushing with poor fundamentals. Will this time be any different? We really need to see results- definitely not in the near term as fundamentals are just not convincingly surprising the upside enough.
A trend following system trader will still probably stand firmly by the selling side and all these good news about EUR/USD turning bullish is just a great piece of news to them- to add on their position on a pull back over a medium term outlook. The downtrend for the Euro thus far has not shown great strength for everyone to believe the worst is over thus any upward movement now could be just  delusional.