EUR/USD 1 Hour Chart 14 August, 2012  +8GMT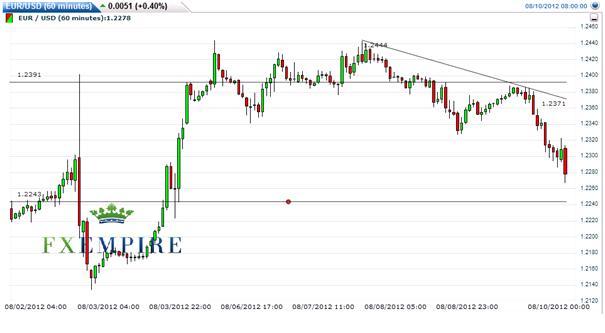 This rally is just  not  sustainable for the long run and the peak around August 7 presents opportunity to go short. Chronic problems are still not solved, bond purchases calms investors but increase government debt. Isn't this what's the crisis is about ? 
In the article EUR/USD 10 August 2012: Room for Decline:  We concluded very closely that 1.2240 was where a possible buying level and 1.2390/1.2400 remains the key resistant level. This 1.2240 level is in fact the turning point of a rally on Monday that pushes it out of the downtrend line drawn based on recent articles. In the first chart above, the red rectangle box shows a bullish shape but with some resistance met probably by those shorting the rally and respecting the down trend. The last 3 green candle sticks suggest buying demand up with long bottom shadow followed by 2 bearish candlesticks.
The next few hours will trade thin and represent a good chance to hop the rally for a 100 pips a proximity. A tight stop loss is viable at this point as the 3 green candle sticks that suggest buying demand is where people could be referencing. If things turn around which is highly probable due to the intermediate downtrend, 1.2240 is again where we are looking at since market reversed at that level.