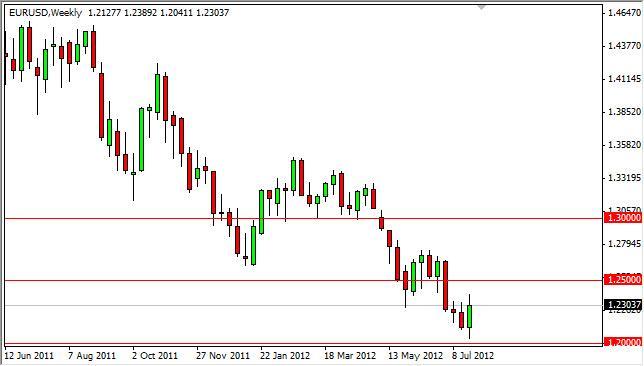 The EUR/USD pair had a strong run for the week as speculation continues that the ECB will step into the market and help support the Euro over the long run. A lot of this was predicated upon the head of the ECB, Mario Draghi, stating that he was willing to do "whatever it takes to support the Euro." The markets look at this as a reason to celebrate potential action by the European Central Bank, and as such we saw the Euro have a nice rally for the week.
However, the question then becomes whether or not they will do enough. It is obvious that the markets will express relief that this, but the Euro itself may be punished as the ECB undoubtedly will have to ease monetary policy. The Federal Reserve on the other hand may have the flexibility to stay out of the way of the markets in the short term now. This is predicated upon the 1.6% GDP report that came out. Granted, this is not a stellar report, but it isn't as bad as many had feared.
On the daily charts, we actually printed a shooting star on Friday and this suggests to us that perhaps we will start to trade this pair based upon the interest rate differential forecasts instead of headlines from moment to moment. This may enter a new phase of trading that is much like the fundamentals that you read about in Forex manuals, in other words we will be buying currencies with higher yielding rates, or ones that look like they are more likely to raise rates quicker than the other. In this particular case, this would favor the US dollar.
The European economy is a series of recessions and in some cases depressions waiting to happen. The US is still growing, albeit slowly, and that is enough for people to want to invest in that country over the region in Europe. We think that a break above the top of this candle will be met with massive resistance at the 1.24 area that extends all the way to 1.27 or so. Because of this, we simply do not see the case for buying this pair, regardless of what the ECB may do.