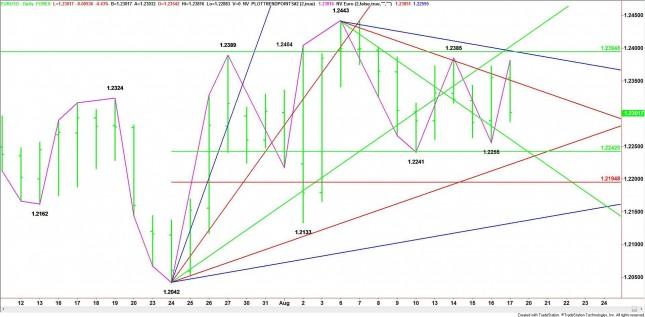 After Thursday's successful intraday reversal up led to a expanded range day and a strong close, many traders expected the EUR/USD to follow-through with a another surge to the upside. This has not been the case, however, on Friday as the market made a feeble attempt to rally early in the session, only to stop at 1.2388, slightly better than the August 14 top at 1.2385.
Even if the Euro had attempted to accelerate to the upside, it would have likely felt selling pressure as it neared a major 50% price level at 1.2394. Today's abrupt reversal to the downside is further proof that short-covering rather than new buying is currently driving this market. Because so many uncertainties remain about the condition of the Euro Zone, traders continue to be reluctant about buying strength.
At the mid-session, the EUR/USD is trading lower after reversing course following a friendly U.S. Consumer Sentiment report. The market is still trading inside of Thursday's expanded range, however a sell-off into the close ahead of the week-end, could mean the market is setting up to challenge a pair of bottoms at 1.2255 and 1.2241.
Today's action supports the idea that the Euro is rangebound and likely to remain in this state until the European Central Bank or the U.S. Federal Reserve take concrete steps that either strengthen the Euro or weaken the Dollar decisively. Traders continue to read into comments from ECB officials, attracting some light buying and leading to fresh short-cov ering, only to be brought back to reality following the release of a friendly U.S. economic report. This constant switching of "risk on" and "risk off" sentiment is leading to the choppy two-sided trade.
Technically, the bottom at 1.2042 in late July was created by optimistic comments from ECB President Draghi and the top at 1.2443 was formed after he failed to act decisively on his vow to support the Euro. The middle of this range at 1.2242 is providing support at this time. This probably means that traders are giving Draghi the benefit of the doubt. The wildcard in this assessment is the U.S. Dollar. If the U.S. economy continues to strengthen on the heels of friendly U.S. economic data then the Euro is likely to drift lower. If the market still believes that the Fed will add additonal stimulus then coupled with Draghi's pledge, sentiment may shift to support the Euro.