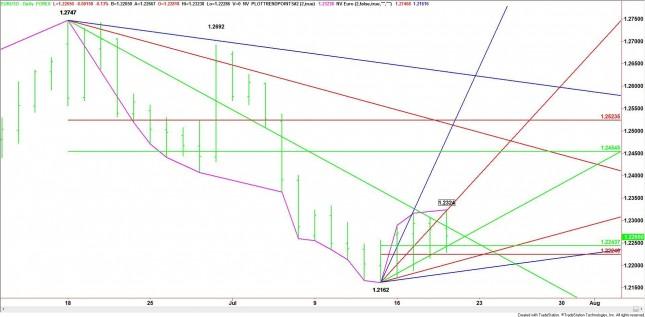 It's been a tumultuous day in the EUR/USD as the currency pair has been  taken on a joyride following trend and counter-trend changing events.
The EUR/USD traded higher overnight based on a strong trade in Asia bolstered by speculation the U.S. Federal Reserve and the Chinese central bank will take action to stimulate their sluggish economies. Traders responded to this idea by driving the Euro higher, but remained cautious ahead of important Spanish and French debt auctions scheduled to take place later in the day.
The EUR/USD accelerated to the upside overnight after taking out a downtrending resistance line at 1.2287. Based on the longer-term range of 1.2747 to 1.2162, some bullish traders thought this meant the Euro was well on its way to a test of a 50% level at 1.2454.
Following a weaker than expected Spanish bond auction, the Euro plunged into a retracement zone created by the short-term range of 1.2162 to 1.2324. This zone was identified as 1.2244 to 1.2225. The low of the day is 1.2229. After establishing intraday support in this zone, the market recovered to trade back to the day's mid-point at 1.2273 which it has straddled most of the day.
While the Spanish bond auction news triggered a negative reaction, a sharp drop in the U.S. Dollar due to weak U.S. home sales and a decline in Philadelphia-area manufacturing, helped drive the Euro higher, leading to its midday recovery.
This news solidified the thought that the economy has weakened enough to warrant aggressive action by the Fed to get it back on track or face a recession in early 2013. Even though the Fed has been citing employment as its key indicator, a drop in home sales and weakness in manufacturing is likely to lead to layoffs in the housing and manufacturing industries respectively.
Today's two-sided trading action and volatility could become the norm over the next several days as investors will continue to sort out the news. Although the main trend is down in the Euro, there may be enough bullish news regarding additional stimulus to encourage shorts to continue to pare their massive positions. In other words, it may not be outright Euro buying but rather dollar selling that drives the EUR/USD higher.