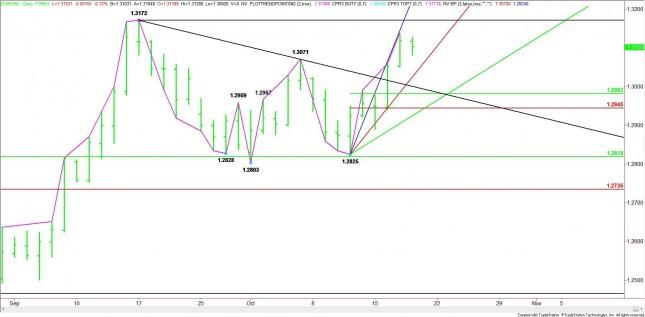 It looks like the EUR/USD is going to finish the week on a weak note as traders take profits ahead of this week-end's European policymakers meeting. On Tuesday and Wednesday, the Euro soared against the dollar after breaking out over a downtrending resistance line. This encouraged both short-covering and fresh buying, sending the Forex pair toward the September 17 top at 1.3172.
On Wednesday, the EUR/USD reached a high of 1.3139, but selling pressure stopped a follow-through rally on Thursday at 1.3128. This slight hesitation raised concerns among long-traders, encouraging them to take profits. Since the main trend is up, the expected move is likely to be corrective in nature rather than a trend changing event.
The first downside target is an uptrending Gann angle at 1.3025. Based on the short-term range of 1.2825 to 1.3139, value-based traders should look for a corrective move into a retracement zone at 1.2982 to 1.2945.
With nothing major expected to come out of the European summit, EUR/USD traders should watch for a sideways trade to develop over the near-term. This could mean the market will straddle the retracement zone at 1.2982 to 1.2945 for several days before attempting to establish support. A failure to hold this level could be a sign that either the Spanish debt request is off the table or the EU ministers are going to refuse aid to Greece.