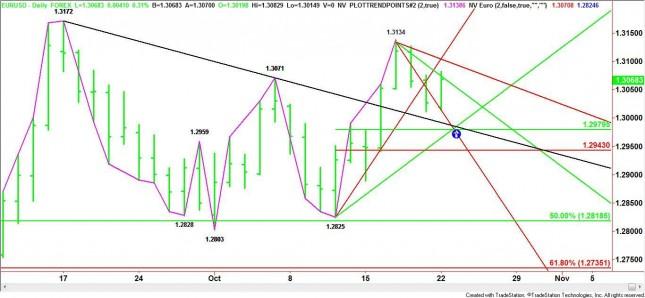 Early in the trading session, it looked as if the EUR/USD was going to follow a Gann angle at 1.3014 straight down into its target zone, but buyers stepped in, driving the market straight up on the intra-day charts. Since today's move was driven by a news event, one has to conclude that it was short-covering that triggered the spike. After popping to the upside, the EUR/USD ran into Gann angle resistance at 1.3074. A break through this price could trigger a further rally to another Gann angle at 1.3104. 
Traders should be watching two price ranges. The short-term range is 1.3134 to 1.3012. This range has created a retracement zone at 1.3073 to 1.3087. The key area to watch is the potential resistance cluster at 1.3073 to 1.3074. 
Bigger picture traders should watch the main range of 1.2825 to 1.3134. This range has created a major retracement zone at 1.2979 to 1.2943. The current short-term movement suggests that the EUR/USD should reach this zone on October 23. 
Besides the retracement zone, an uptrending Gann angle, a downtrending Gann angle and a down-sloping trend line, all converge in the same area. This is creating a target zone and a potential support cluster. 
The main trend is up and traders are waiting for bullish news so there is a bias to the upside. Short-term breaks seem to be setting up buying opportunities so the most important areas to watch are the retracement zones below the market. If tested, these are likely to attract buyers who are looking for value.