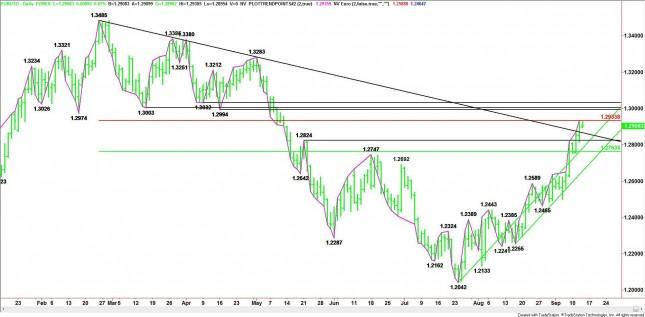 The EUR/USD surged to the key psychological 1.3000 level after the Federal Reserve announced a new bond-purchase program and that its benchmark interest rate would remain at historically low levels into 2015. The news drove up demand for higher risk assets while encouraging investors to shed the U.S. Dollar.
Technical analysis took a backseat to the fundamentals today as traders stood aside most of the trading day while awaiting the worst kept secret in the financial markets. In its monetary policy statement, the Federal Open Market Committee meeting announced it would buy $40 billion in mortgage-related bonds each month, and left the door open for additional purchases, until the job market showed improvement.
Today's announcement essentially means the Fed will have the printing press running full-speed over the short-run while leaving open the possibility it continue to run it until the troubles in the labor market disappear. This open-ended stimulus plan marked a departure from previous stimulus plans which featured more specific funding as well as end-dates.
Additionally, the Fed also maintained Operation Twist, a plan that involves the selling of short-dated Treasury notes and reinvests the proceeds in longer-term securities.
Technically, today's move by the Fed means the U.S. Dollar should continue to weaken as the central bank prepares to flood the market with cash. This will underpin the Euro, at least until traders find holes in the European Central Bank's plan to buy the bonds of weak Euro Zone members. The chart shows that the old bottoms ranging from 1.2994 to 1.3032 could become new resistance since old bottoms tend to become new tops.
Earlier this week, the EUR/USD broke through a long-term resistance line, sending the market into a key Fibonacci price level at 1.2994. This price represented a 61.8% retracement of the year's range. Now that the Euro has pierced this level, 1.2994 becomes new support, followed by a 50% level at 1.2763.
Breaking through and closing above 1.3000 will mean higher prices to follow, however, traders should note that the market is overbought in the short-run and vulnerable to a quick reversal top. This could be the catalyst behind the start of a near-term correction.