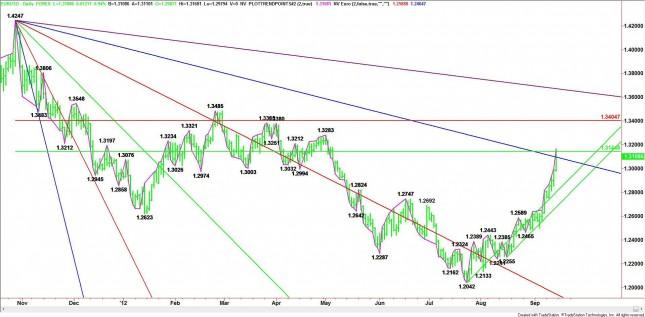 The EUR/USD is trading sharply higher at the mid-session. Investors continue to buy the Euro, buoyed by the U.S. Federal Reserve's new stimulus plan. With the dollar becoming the new funding currency, this current leg of the rally that began on July 24 could continue well into next week.
Technically, after walking up a Gann angle from the 1.2042 bottom for several weeks, the Euro is beginning to pull-away while moving vertically. This type of pattern suggests aggressive buying and short-covering. Today this support angle is at 1.2802. Although it is highly unlikely, a move through this level will be a sign of weakness.
The strength of the market was demonstrated by today's breakout through a downtrending angle at 1.3097. This angle is an extension of the October 27, 2011 top at 1.4247 and held the market down for 230 trading days. This is an indication of the significance of today's rally.
Based on the range of 1.4247 to 1.2042, or the October 2011 top to the July 2012 bottom, a major retracement zone has been created at 1.3144 to 1.3405. The lower level or 50% price level is providing resistance today. Increased momentum on rising volume could trigger a further rally to the Fibonacci level at 1.3405.
Although the EUR/USD is technically overbought, there is no sign of a let-up yet. The best indication that a top may be forming will be a closing price reversal top.