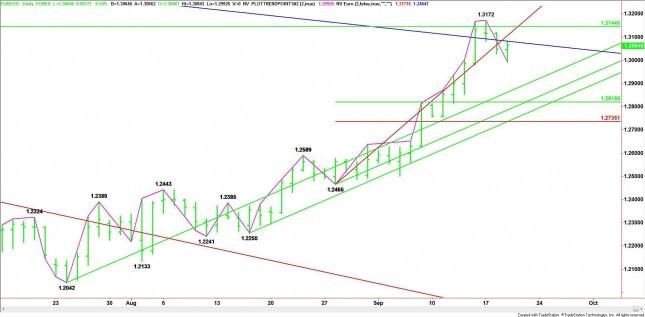 The EUR/USD followed through to the downside after Monday's bearish closing price reversal. The move created a two-day swing top and reaffirmed the reversal top at 1.3172.
With a top confirmed, a new main range has been created between 1.2465 and 1.3172. The new retracement zone and potential downside target is 1.2818 to 1.2735. Other potential downside targets include uptrending Gann angles at 1.3083 and 1.3065.
By the mid-session today, the EUR/USD had reached a low at 1.2993. This could be a sign that a short-term bottom is forming. If this occurs then a new short-term range will have formed by 1.3172 to 1.2993. If this range holds then traders should look for a retracement to at least 1.3083 over the near-term. Increased momentum or short-covering may even take the market as high as 1.3104.
If a major top is being formed then this developing rally should stop between 1.3083 and 1.3104. A secondary lower top may form inside of this zone which will be a strong sign that the EUR/USD is getting ready to roll over to the downside.
Overall the EUR/USD appears to be set up for a break into 1.2818 to 1.2735, but this is not likely to occur unless the market survives a test of the 1.3172. There has to be a sign that short-sellers are taking control. If they don't show up then the uptrend is likely to continue.