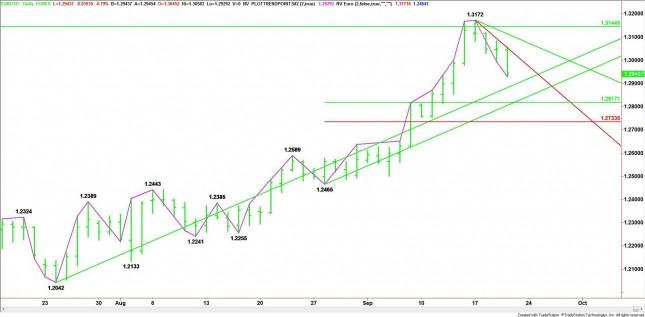 Concerns over a weakening Euro Zone economy are pressuring the EUR/USD at the mid-session. Most of the selling took place early in the session with volatility slowing down throughout the New York session. Today's break was further confirmation of the closing price reversal top from September 17 at 1.3172. This top occurred a little above a major 50% price level at 1.3144.
Today's action suggests that the EUR/USD is on track to complete a 50 to 61.8 percent retracement of the last rally. This range is 1.2465 to 1.3172 and the retracement zone is 1.2817 to 1.2734. Since the main trend is up, buyers are likely to show up in this zone and could trigger a fast rebound to the upside.
Before the market reaches this area, downside momentum may slow down because of a pair of uptrending Gann angles. These angles have guided the market higher in the past since late July so they are important to the slope of the trend and the structure of the rally. The first angle is at 1.2882, followed by 1.2805.
On the downside, since making the top at 1.3172, the market has been walking down a steep Gann angle moving down at .004 per day. Today this angle is providing resistance at 1.3052. The Euro will remain weak versus the dollar as long as this angle holds as resistance.