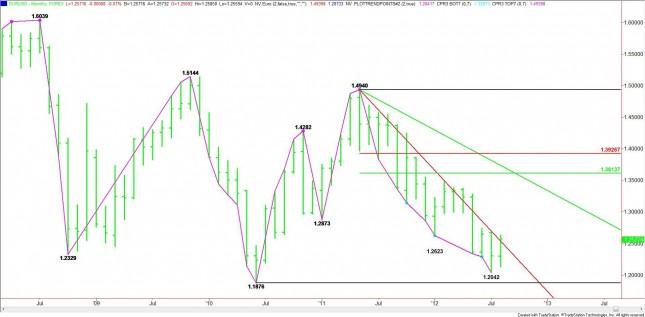 After reaching the low for the year in July at 1.2042, the EUR/USD followed through to the upside in August, setting up the Forex pair for a continuation of the move in September.
Since reaching a major top at 1.4940 in May 2011, the EUR/USD proceeded to walk down a downtrending Gann angle for 15 months. In August the Gann angle was at 1.2540. In September it is at 1.2380. Last month's close at 1.2572 means the Forex pair closed on the bullish side of this angle and will open September in a strong position to continue the rally.
We've seen the Euro attempt this move before, most recently in April and May, but this time the move is occurring following a test of the major bottom from June 2010 at 1.1876 so it may carry a little more weight than the previous attempts. Although this technical action may be indicating a short-term bottom has formed, the Euro is still far from changing its trend to up according to the swing chart. This will only occur after a main top is crossed.
The current price action may be indicating a low has been reached, but conventional technical analysis still indicates that it is going to take time to form an actual bottom. Typically, the height of the rally is determined by the length of the base, but since a base hasn't been formed yet, it is difficult to forecast the height of this current rally. Because of the prolonged move down in terms of price and time, short-covering is likely the main reason for last month's strength and this month's potential rally. There is still too much uncertainty in the Euro Zone to encourage enough buying to drive this market higher.  However, conditions are ripe for continued short-covering.
Fundamentally the Euro is still being supported by the belief that the European Central Bank is developing a plan to keep interest rates under control in Spain, Italy and a few other peripheral nations. This is likely to be in the form of additional bond purchases. Since reaching the low when ECB President Mario Draghi vowed to do "whatever it takes" to preserve the Euro, investors have given him the benefit of the doubt. The next test of his promise will be on September 6 when the ECB holds its next monetary policy meeting. Investors are pricing in the possibility that he will deliver the news they want to hear which could be why the Euro is still trading close to two month highs. A trade through the August high at 1.2747 and the July high at 1.2677 will be strong signs that sentiment is shifting to the upside.