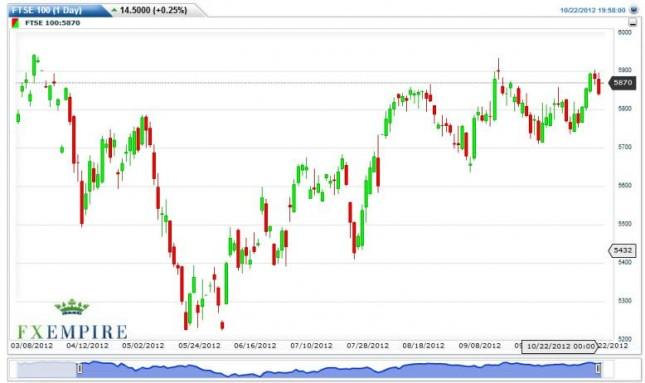 The FTSE futures market fell rather dramatically once we had a hit the 5900 level on Monday. The candle looks very weak, but as you can see upon the chart we are just above a very consolidative area. In fact, we think the 5800 level will be the next target, but shouldn't allow the market to go much lower than that.
Looking at this chart, it is clear that the trend is to the upside, and as such we are not willing to short it for more than a very short-term trade. We believe there is a possibility of this on Tuesday, but quite frankly would be much more interested in a supportive looking the hammer or engulfing candle closer to the 5750 level as we think that should be the area that the uptrend continues from.
If you are looking for single stocks to trade, we believe that a bit of a value play may be appearing in the financial sector right now as British banks have pulled back slightly due to the lack of finality in the solution for European debt woes. Having said this, the futures market is an excellent way to play this, but if you choose to play a non-leveraged way, perhaps produce financials will be the way to go. Obviously, we also believe in the longer-term viability of household names as well, and dividends are crucial for investors worldwide at the moment.
With all that being said, we do prefer the "steady as you go" approach to this marketplace. The United Kingdom is certainly stronger than the rest of Europe right now, and as such money is flowing across the English Channel. Given enough time, we should see the British markets outperform their French and German counterparts.
If we can get above the 6000 level, this futures market should absolutely explode to the upside. Looking at this chart, it does look like that is what we'll eventually attempt to do. With all the quantitative easing out there, it is almost as if stocks have to go up as currency values go down. With the added benefit of having a central bank in England that isn't looking to ease its monetary policy, foreign investors will be attracted by the fact that their British pounds won't be devalued as well, giving a bit of a "double bang" for profits coming from the FTSE.