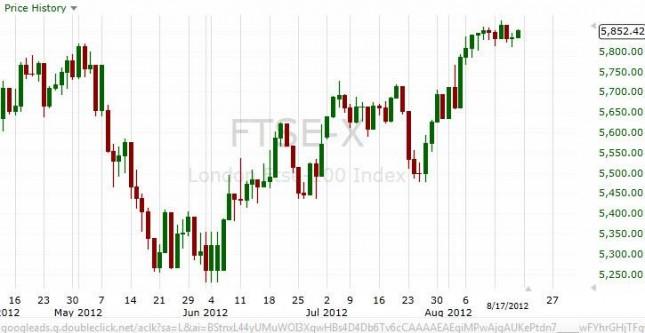 The FTSE 100 Index had a positive session during the Monday trading day, to continue with the consolidation just above the 5800 level. The market looks like it's trying to build momentum to breakout above the overhead resistance, which we see as being settled around the 5900 to the 6000 level.
Our suspicion is that the trading world is simply waiting for the volume to come back into the markets, as traders returned from holiday. Also of concern would be the reaction of the European Central Bank to current problems in the European Union. The ECB is expected to begin easing; one has to wonder however whether or not it is going to be enough to make the markets happy.
With this being said, this could be part of the reason why the market is struggling to get above the 6000 level. Once this happens though, we would be very bullish on London stocks in general, and would be buying everything that suggested higher beta returns. Why frankly, even though the Bank of England has suggested recently that monetary policy is about where it needs to be, we suspect that sooner or later the Bank of England will have to consider some type of monetary easing.
As central banks around the world continue to pump liquidity into the system, this will drive people out of fiat currencies and into stock markets. This includes the bond markets as well, as yields will drop due to quantitative easing by the world's major central banks.
This is of course by design, but it should be pointed out that these monetary policy moves are starting to return less and less with each attempt. In other words, it is a situation where you have "diminishing returns" on each central bank policy action. However, there will certainly be a boost to stocks in the immediate term. If we get above the 6000 level, we suspect that would have something to do with the European Central Bank. It is possible however, that earnings could be coming into play as well as some of the larger British companies have in fact done fairly well recently.
As long as we can get above the 6000 level, we think that the London stocks will be a fairly positive market. As for selling, we would only sell the FTSE if we manage to break below the 5500 level as there is so much support in various places below.