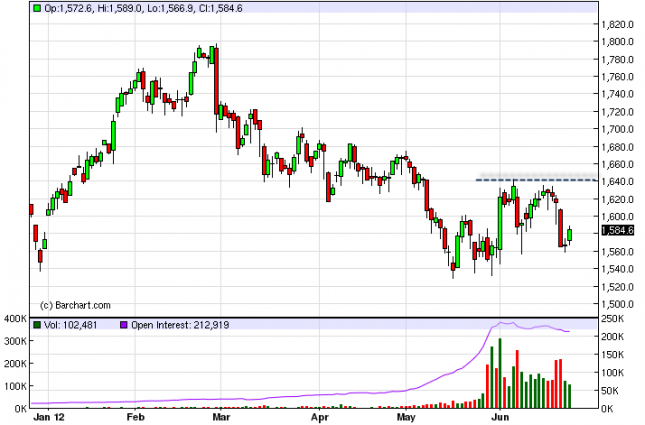 The gold markets had a mildly positive session on Monday as traders came back from the weekend. The market has seen a rough couple of sessions lately, and this rise will have been quite welcome by the bulls. The session didn't gain back all of the losses naturally, but it does suggest that there are going to be people there to buy when the market falls.
The $1,640 level above has been very resistive lately, and it appears that this is the level we need to clear in order to truly move forward at this point. The Federal Reserve hasn't expressly gone into a new round of quantitative easing yet, and this will have certainly weighed upon the value of gold as the Euro has been so shunned lately too.
The gold markets have been grinding away over the last two months or so, and it appears that a decision is about to be made. We will either see the bulls come out on top, or the bears will send this market down. Either way, something has to give as the market is simply far too tight at this point in time.
The floor in this market as far as we are concerned is $1,500. If price managed to stay under that level for a daily close, we would have to start to think about shorting this market, and probably adding onto that position as time went on. At this time though, we see this as a choppy market between the $1,500 and $1,640 levels – and it is going to take something special to get this pair to break one way or the other.
The European summit will be watched late this week, and this could have a major influence on the price of gold. After all, if the meeting doesn't produce some kind of decisive action in Europe regarding the debt crisis, it is very likely that the Euro will sell off to the Dollar. If this is true, the price of gold should fall in the meantime as those Dollars used to buy it with will have much more value.