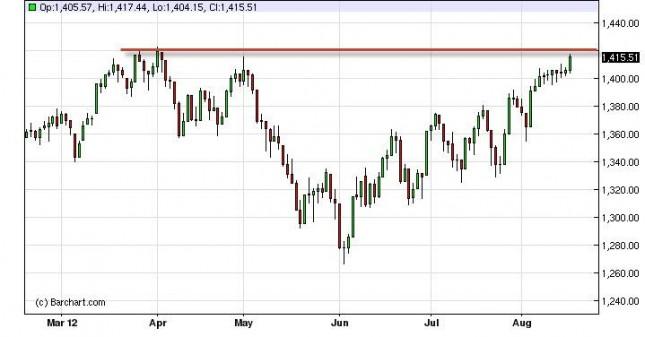 The S&P 500 had a bullish session on Thursday to retest the top of the ascending channel that we have been following for most of the summer. The move does look like it's trying to press up against the 1420 level, and as such it appears that pressure is building to the upside. Quite frankly, if we break the 1420 level, we think that we will run to 1450 before too much time expires.
The markets are in a state of anticipation right now, as they think that the Federal Reserve is going to add to monetary policy easing on its next meeting in September. There's also a meeting for central bankers out Jackson Hole, Wyoming that can produce this type of announcement as well.
In this bizarre situation we find ourselves in, even though the economy is sputtering along it appears that the markets are going to be driven more by liquidity concerns than anything to do with the real economy. Because of this, it does look like stocks or any continue to be a buy in general as the Federal Reserve prints more Dollars.
Looking forward, it is hard to tell what happens at the 1450 level, but it should be noted that there is a strong possibility that one the Federal Reserve comes out with this announcement in September, that the market will have already priced everything in and it could be a "sell on the news" type of event. Because of this, we are going to try and be as flat as possible before those meetings take place. However, we do see in the meantime it does look like this market is ready to take off.
On a daily close above the 1420 level, we simply have no choice but to buy stocks as it would signify a serious break out of resistance. This market looks like that's what it once do, and it could even possibly be one that we could buy on pullbacks in the 1400 level if we get the right supportive candles. Either way, we have a feeling that we will be buying S&P futures very soon.