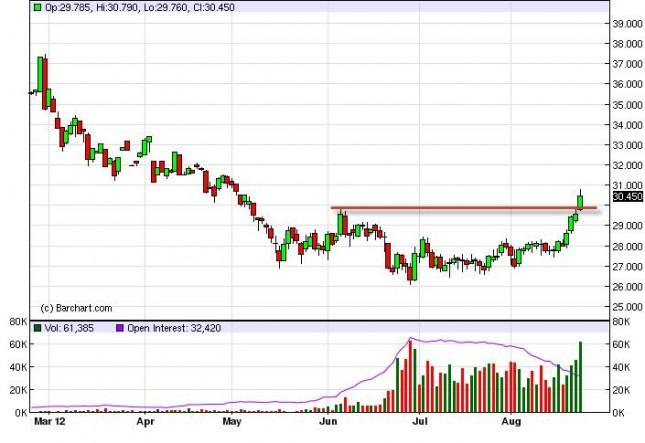 The silver markets shot straight up after the Federal Reserve released its minutes from the July meeting on Wednesday. The Thursday session saw more of the same in this marketplace, and as such we are finally smashed through the all-important $30 level. As many of you know, this has been the area that we have been watching with such great interest lately, which for us signal that much higher prices were in the works.
We had decided a while back that it certainly looked like this was going to happen, but it must be stated that we are a little bit surprised how quickly it did happen. After a summer that has been relatively stale, all of a sudden this is one of the hottest markets in town.
We see as fully no reason to short this market obviously, and now that we are above $30 on a daily close - we think that this is not only a "buy only market", but is now eight "buy and hold market." In other words, we are buying silver at this point in time, and expecting it to rise much more. Our first target is roughly $36.
As the central banks out there begin to add more liquidity to the markets, this will drive up the demand for precious metals. While we still believe that gold will benefit from this much more than silver, it must be said that the silver market tends to move rapidly, and as such very quick gains can be realized and it. The only thing that we can say about silver that is negative is the fact that it is used as an industrial metal sometimes. That part of the equation is necessarily bad, as the economies around the world are contracting.
Looking forward, we would suggest buying on every pullback, especially the ones that show support at a "round number" such as $30, $31, and on and on. This market looks like one that could rise rapidly, and as such shorter time frames may be used for entries. Now that we are getting close to the end of the summer, it looks like this will be one of the hottest markets out there.