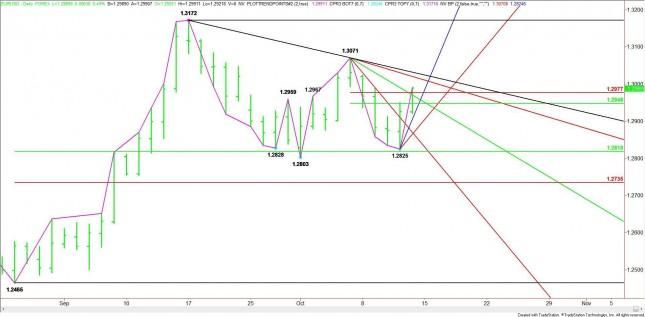 The EUR/USD is following through to the upside after Thursday's closing price reversal bottom. Today's upside momentum was strong enough to take out a pair of minor retracement levels at 1.2948 and 1.2977. Additionally, the market broke through a downtrending Gann angle at 1.2971. All of these moves indicate strong buying.
The strength of the market is also being determined by the fact that the rally is moving up at a pace of .008 per day. This places the support angle at 1.2928, followed by a slower moving Gann angle at 1.2877.
Now that the resistance zone has been penetrated, traders should watch for a drive into another downtrending Gann angle at 1.3021. Looking at the bigger picture, a downtrend line connecting the 1.3172 and 1.3071 tops is at 1.3032. Since this trendline has been battle-tested and proven to be solid resistance in the recent past, traders should watch for a technical bounce following a test of this price. A breakout through this trendline, however, is likely to trigger an acceleration to the upside.