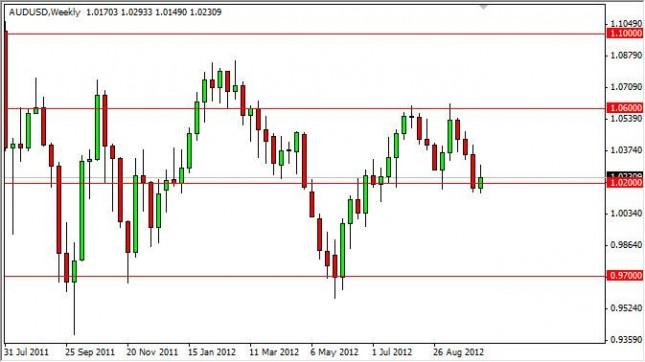 The AUD/USD pair had a uneventful week as the market simply bounced from roughly 1.02 to the 1.03 handle. The Australian dollar is currently suffering because of the Chinese slowdown, and the fact that the Australian export market is so heavily tied to the mainland.
With the Reserve Bank of Australia expected to cut rates a couple times over the course of the next six months, the Australian dollar will continue to underperform other commodity currencies. With that being said, we are sitting on top of a support area at the 1.02 handle, and as such we think shorting cannot be done until we break the lows from this previous week's candle.
If we do manage to break the bottom of the candle, we think we can easily run to the 0.97 level. Below current levels, we do have the parity area which of course will attract certain amount of traders, but in the end this area has been sliced through several times. Because of this, we feel that it will only have a minor impact on price.
We are definitely bearish of the Australian dollar in general, and await this sell signal. However, we would have to know that a move above 1.03 would probably trigger a return to the 1.06 handle. This could be the next move if the Chinese economic numbers over the weekend come out fairly strong. We are not sure whether or not the market will react positively to the numbers right away, as there is much suspicion with Chinese reporting. However, most market participants readily admit that they have to trade off of the Chinese numbers, simply because they have no other alternative.
Looking forward, we think that this pair will continue to not around between 0.97 and 1.06. In fact, it is probably the range for the entire year in 2013. We think that the gold market will more than likely provide a bit of a lift for the Aussie dollar, and as such it won't fall quite as much as people would expect. This is why we fully expect 0.97 level to hold as support even if we do break down.