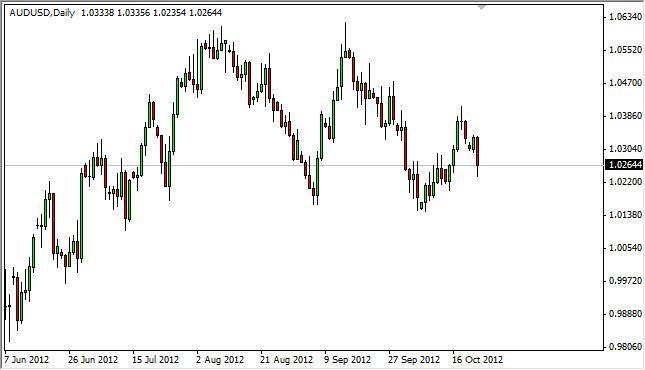 The AUD/USD pair had a very bearish session during the Tuesday trading day as the markets continue to weaken for anything remotely risk related. However, the 1.0250 level did offer a bit of support, and we did bounce towards the end of the session. Ultimately though, it looks as if the 1.0150 to the 1.02 level should provide quite a bit of support. If that area fails to offer that support, this pair goes down and down hard.
When trading the Australian dollar, you must understand that you're essentially trading the Chinese economy. There are signs of weakness in China, and of course traders will continue to be very leery of going long anything that relies on an expansion in the mainland. The Australians also are known to be thinking of cutting rates, as the Reserve Bank of Australia has continued to pound the table about a weakening global economy.
If you look at the recent highs, we sell them at the 1.06 level. The lows have been tested twice, but recently we've seen a shooting star at the 1.04 level, and as such the last high has been significantly lower than the previous one. If this holds true, and we need to see a move below 1.0150 in order to confirm it, we would see the beginning of a very bearish move in this market.
Based upon risk assets around the world on Tuesday, it looks very likely that we will continue to see weakness in the Australian dollar. Stock markets and futures markets sold off rather aggressively during the session, and this of course hurts commodity producing countries such as Australia and New Zealand. Because of this, we think that the Australian situation of relying on exports while good in the long run, will more than likely hurt them over the short-term. With this being said, we are very bearish of the Australian dollar, but might wait for a little bit of a bounce before we started selling again as we are sitting on what his obvious support. Conversely, if you are a conservative investor you could wait until 1.0150 has given way.