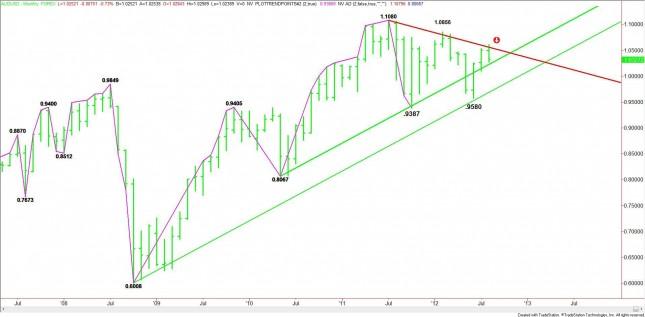 The Australian Dollar/U.S. Dollar (AUD/USD) began August in a position to breakout to the upside, but selling pressure throughout the month has the market poised for a break down during September.
The Forex pair finished August inside of a small triangle chart pattern on the monthly chart. The downtrending resistance is at 1.0520. The uptrending support line comes in at 1.0307. The study of technical analysis of chart patterns has determined that the triangle chart pattern is a non-trending pattern. It is considered to be "non-trending" because the support and resistance lines have been gradually compressing the price action. This typically leads to increased volatility.
Should the AUD/USD take out the support line, then traders should look for downside momentum to trigger a break into the next uptrending support line at .9768 during August. This is actually the support line of an even larger triangle chart pattern. Fresh shorting pressure as well as sell stops could be the catalyst behind the impending weakness. Traders should also note that a reversal to the upside will be a surprise, but if the downtrending resistance line at 1.0520 is violated then conditions could turn bullish once again.
Two main tops at 1.1080 and 1.0856 are strong reasons why this market is starting to show signs of rolling over to the downside. A third top at 1.0613 could be forming also. This was the high in August. Besides breaking the trend lines, another sign of weakness will be the penetration of the pair of main bottoms at .9387 and .9580.
Fundamentally, a severe decline in the price of iron ore has led to speculation that the mining boom the country has experienced for several years may be coming to an end. This could mean that the Aussie Dollar has reached a major top and could be setting up for the start of a long-term decline.
Supporting this conclusion is the recent news that BHP Billiton, the world's largest miner, had halted mining projects valued at more than $50 billion according to Credit Suisse and Deutsche Bank. Australia's resources minister added "You've got to understand, the resources boom is over". An economic slowdown in China could add to Australia's woes since it is the country's biggest trade customer.
The first sign of weakness will be change in the relationship between exports and imports. If this trade report shows that Australia was a net importer in August then this will send a strong signal that the country may be headed toward a recession. This would mean the Reserve Bank of Australia would have to lower interest rates. Investors who bought the Australian Dollar because of the higher yields will likely pull their money out of the country and seek better returns elsewhere.