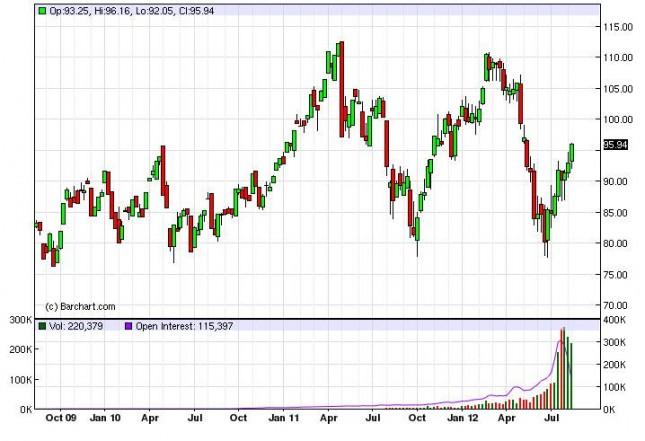 The light sweet crude markets had a positive week over the last five sessions, and even managed to close above the $95 level. Even more impressive is the fact that we managed to smash through the top of the shooting star from the previous week, so it certainly looks like the upside pressure is building.
Looking at the charts, it appears that the $100 level will be resistive as it is a large psychological round number, and there is quite a bit of clustering around that level. However, we have broken through in the past so it is certainly possible to get through it again.
The market will certainly look to gain until we get to the $100 level, and it is there that we will find the next real struggle. However, if we get above the $100 level we should see prices as high as $110. We don't necessarily think that it will be a straight shot up to that level, but it is starting to look more and more likely that we will see a return to the top of the consolidation zone which measures from $80-$110 per barrel.
We are currently in the middle of this consolidation zone, so choppiness could be the norm. There are a lot of potentially bad headlines to come out of Iran over the next couple of weeks, so a spike in prices is certainly possible. To put things in perspective, there are reports that the Obama administration is currently looking to release some of the strategic petroleum reserves, or SPR, in order to help combat rising gas prices in the United States. Upon this report, oil prices actually rose.
This is much different than the last time they attempted to release the SPR, which actually brought prices down but only for about a week. It seems that the markets are more in tune with what difference the Obama administration can actually made, and as such threats like this would be hollow at best. It also shows exactly how bullish the markets are; as if there were underlying weakness we would have seen some type of pullback from this story breaking. Because of this, we are only buying this commodity at this point in time and understand that $100 will be a hurdle, but we think it's one that will eventually be overcome.