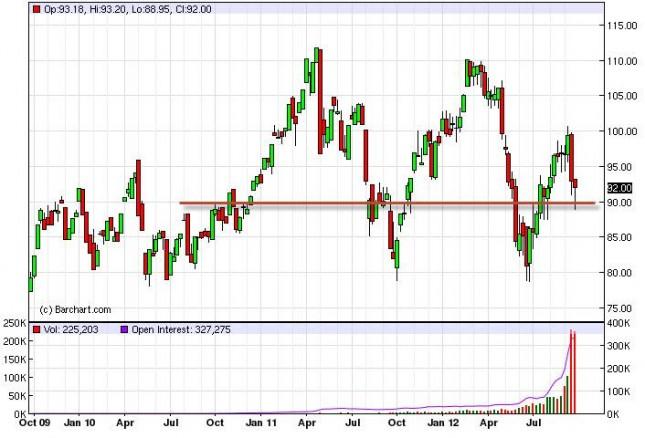 The light sweet crude market had a negative week over the last five sessions, but found the $90 level to be supportive. We have suggested previously that this would be the case, and it does look like we have found buyers to step into the market at this point.
The candle is shaped like a hammer, and as such this does look like we are trying to build some type of momentum to the upside. With the various tensions around the world, especially in the Middle East, we should see oil prices continue to rise. Don't forget, the Federal Reserve is currently expanding its monetary policy to be even more, data, and this of course will bring down the value of the US dollar over time. As this contract is priced in US dollars, it only makes sense that it becomes more and more expensive.
We see the $95 level as a minor area of resistance, but think that $100 will be the target going forward. The real question happens at that level as to whether or not we can continue the bullishness back up to the $110 area. At this point time, that is probably a bit much to try and decipher, but it does look like at the very least the $100 level will be tested.
On a break of the highs from the previous week, we are more than willing to go long as we think there is a good six dollars in upside action before you run into any serious trouble. We do think that the commodity trading general should continue to do fairly well, and the crude oil market will be no exception.
Alternately though, if we see the bottom of the hammer give way from last week we would be very bearish of this market and expected to fall back to the $80 level. This is the least likely scenario level, as the headline risks are definitely to the upside with everything that's going on in the world right now. We suggest if you cannot play the futures to perhaps try to play the options market as a cheaper way to be involved.