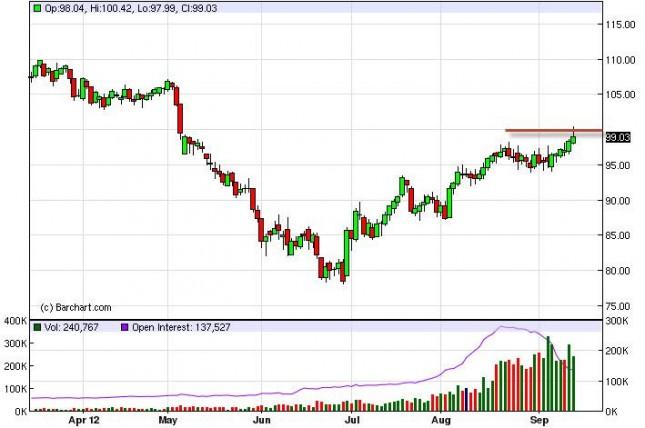 The light sweet crude market rallied during much of the session on Friday, but pulled back from the $100 level in order to form a shooting star. While this is normally a significantly bearish signal, we feel that there is enough support below in order to push this market higher.
There is talk of a potential release of the strategic petroleum reserves, and this has put a little bit of a On oil prices. However, if this happens it has been proven more than once that it is a temporary fall in pricing, and simply an invitation to buy more light sweet crude.
There are far too many headline risks out there to think that the oil markets will stay down for long. There are over 20 US embassies at this moment in time that are being protested that, fired at, or generally attacked in the Middle East, and this certainly can only raise the tension level.
Once we get above the $100 level, it looks like a fairly clear shot to the $105 level. We think that this will eventually happen, and any pullback will simply be an opportunity to buy oil at a lower price. We like the futures contracts, but we also like CFDs as they offer the ability to trade smaller amount. We can expect quite a bit of volatility, and as such this could be an advantage.
On the other hand, if you have the ability to trade binaries, this is an even safer route to go. Looking forward though, we feel that it is almost a given that the oil market continues higher. In fact, we feel that the $105 level is what most of the market is going to be aiming for.
As for selling, the oil markets offer far too much of a safe haven for trouble in the markets, and the quantitative easing effects put in place by the Federal Reserve. We certainly don't see a reason to sell this market, and wouldn't until we got well below the $90 mark, possibly at the $88 handle. Until then, we see no clear path lower.