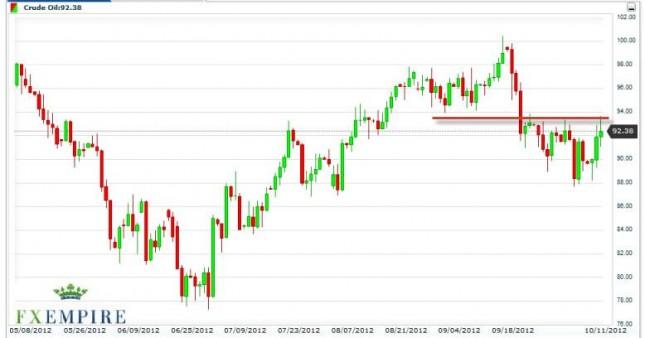 The light sweet crude markets initially rose during the session on Thursday, but gave back much of the gains in order to form a shooting star. This market looks like it's trying to consolidate between the $94 level, and the $88 level. The recent action has been very bullish, but every time we get close to $94 it must be obvious that the sellers come stepping in with heavy hands.
Looking forward, we think that there are always going to be potential for a headline out of the Middle East that could push this market higher. Nonetheless, the industrial demand for crude oil is simply not there. All things being equal, the price of oil should be falling, but we have tensions in the Middle East, and of course the Federal Reserve and its monetary policies.
As long as the Federal Reserve keeps its monetary policy loose, oil will be unnecessarily high. This is simply because the value of the dollar will continue to decline over time, and as such it takes more of them to buy oil.
Look at this chart; we can see that the $88 level is quickly becoming significant support. However, you can make any argument for a bit of a trend line break two or three weeks ago, and this suggests that perhaps we are starting to lose the bullishness in this marketplace. If the situation in the Middle East could come down, we suspect that this market would drop 10 or maybe even $15 before it's all said and done.
The headline risks of course have us very leery of getting directly involved in the futures market. CFD contracts can help save quite a bit of money as the leverage doesn't have to be as high. You can also use options and even binary options as a way to take advantage of the oil markets. Right now, options would be an excellent alternative as it looks like we are currently "stock in a range."
Obviously, we will break out sooner or later, but the truth is that the move will more than likely be telegraphed by extreme volume and volatility. Going forward, we think oil will fall eventually, but it may take some kind of shakeup. As we stated, keeping your leverage low in the oil markets is absolutely crucial at this moment.