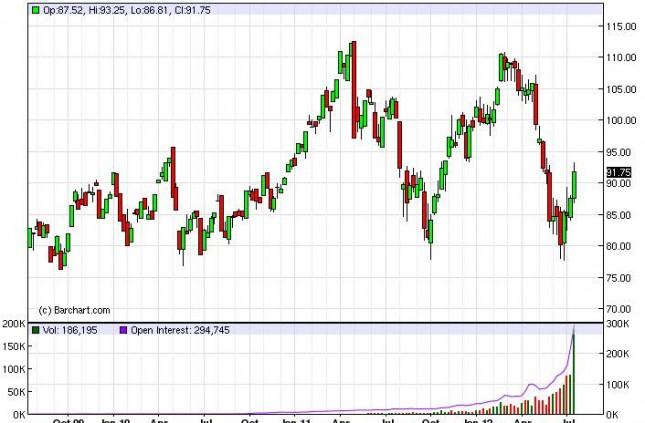 The light sweet crude market had a bullish week again, busting through the top of the shooting star from two weeks ago, proving that the bulls were definitely taking control. As the $90 level gave way as resistance, it became more and more clear to market participants that there was some real strength to this move. With this being said, we're very cautious about shorting this market just yet.
However, it must be said that the $95 level is the 50% Fibonacci retrace from the highs. This could cause some issues for bullish traders going forward, but looking at the overall picture you can see that we are essentially trying to form a massive range between $110 a barrel and $80 a barrel.
These are the types of charts are the hardest to read. This is simply because there are two different ways to look at it, and as such it's very difficult to decide which is the "correct" way to trade this market. We simply have to wait to see what happens at the $95 level, if it truly acts as resistance based upon the 50% Fibonacci level. The suspicion we have here is that it wants in the end, but there could of course be a reaction. With this being said, the longer-term trader needs to focus on whether or not this market stays above $90 for support rather than getting shaken out at the $95 level.
Because of this, we see two distinct possibilities for trading this market. The trader should calm down and look at the longer-term picture knowing that the $95 level could create some type of barrier. As long as you know this going in, it is much easier to deal with at times and as such the Rocky trading conditions that make up the light sweet crude markets are going to be a little easier to navigate.
If you wish to be a little the more conservative, we suggest waiting until a daily close above the $95 mark to buy this commodity. This is because the 50% Fibonacci retracement may actually we cause a significant reaction as this market has fallen so hard, only to bounce just as hard. If you look at the volatility, it's been out of control. In situations like this, these support and resistance areas can cause massive swings. Because of this, you simply must focus on the outer range of the oil markets and suspect that it's going to be a very rocky ride.