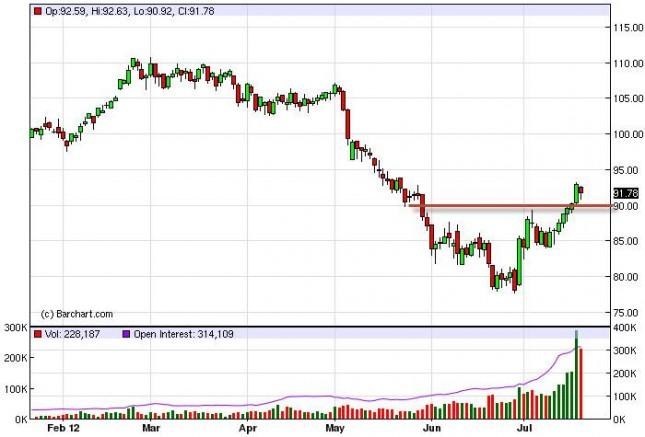 The light sweet crude markets fell during the Friday session, only to turn around and bounce to form a daily hammer. While the candle itself isn't that impressive, the fact that we manage to cut half of the losses truly is, and suggests that the $90 level will in turn be support at this point. This is significant, as it was such significant resistance earlier. This is a basic tenet of technical analysis, and this will certainly have technical traders around the world paying attention.
The beauty of technical analysis sometimes is that it can be very self-fulfilling. This is one of those times, as the $90 level is such a well known resistance area from before. Going forward, the market looks as if the $100 level will be targeted, but we must keep in mind that the $95 level is in fact the 50% Fibonacci retracement from the absolute highest. If you look at the longer-term charts, you can see that there are signs of massive consolidation between $80 and $110.
Needless to say, crude oil prices will be held hostage to headlines coming out of Iran, Syria, and the Middle East in general. Also adding to the possibility of volatility in this market, is the fact that economic growth seems to be slowing down worldwide. Chinese economic numbers are particular interest, as they have been slowing down over the last couple of quarters. Adding to the fact that the Chinese government undoubtedly manipulates these numbers, suggest that perhaps the economic slowdown in that country is much larger than anticipated.
Because of this, we suspect that moves in the oil market could be fruitful to the upside, but only for short-term trading. We think that cyclically the economies around the world are going to be slowing down, and as such this market will more than likely selloff. If you do look at the weekly chart you notice that this bounce is been very sharp after having an extremely sharp fall. These kinds of conditions normally can't last to awfully long in a decision has to be made. We still think there's far much more risk to the downside in this market than the upside. However, we feel that in the very short-term, there are definite gains to be made - perhaps even as high as the $100 level.