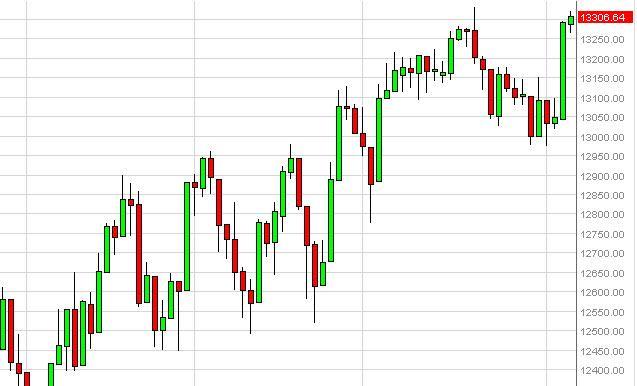 The Dow Jones had a fairly quiet session on Friday after the poor jobs number came out the United States. The market is currently parked at the very highs, and it appears that there is a case to be made for it rising. After all, the S&P 500 index has managed to break out of a multi-year resistance level and looks to go much farther.
It appears that there will be quantitative easing out the Federal Reserve now, and the fact that the Dow Jones is essentially made up of blue-chip stocks may be working against it. While there are some high beta plays such as Caterpillar and Alcoa, most of the Dow Jones companies are considered to be very stable and "boring." Most of the Dow 30 stocks are dividend paying household names, and this isn't where people go to find high beta when the Fed eases.
With this being said, it does look like we can get above the 13,400 level that we are broken above the resistance and going much higher. We certainly wouldn't short this market via stocks or futures, as it is obviously strong. Rather, it should be a little bit slower moving them the S&P 500 on the whole. Obviously, the NASDAQ will also outperform the Dow as it is even higher beta.
If we manage to get a little bit of a pullback, this would actually be an invitation to go long either in an ETF that follows the Dow Jones, or one of the futures contracts. We believe that the 13,000 level will hold as support, and is in fact very strong support at this point. This is because you can draw a line directly across and see how it was so resistive back in July and has held up as recently as last week.
Going forward, we are looking to go long the Dow, but we think a small pullback might be in the cards. Again, if we get a close above the 13,400 level, we are more than willing to go long this market.