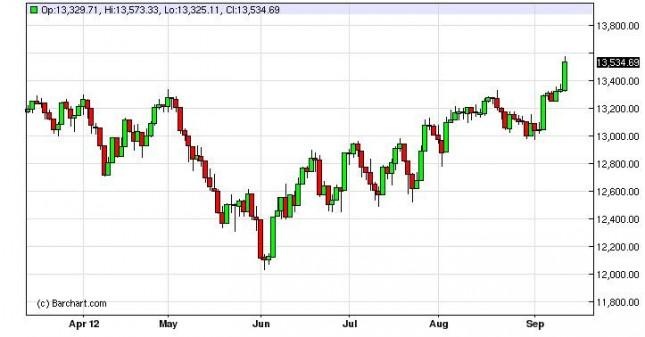 The Dow Jones Industrial Average skyrocketed during the session on Thursday as the Federal Reserve announced greater than expected monetary easing. This sent money from the treasury markets into the stock markets, and as a result the Dow Jones managed to finally break above the 13,400 level.
Based upon the candle and the resistance level broken, there should be no doubt that the Dow Jones looks healthy at this point. We suggest that pullbacks in the future will be bonds as we find more and more reason to diversify out of bonds and into riskier assets to try and gain yield. One of the beauties of the Dow Jones Industrial Average is that it is so full of larger blue-chip dividend paying stocks. Dividends without a doubt are one of the best ways to earn a return at this point in time, as long markets around the world have been rocked by the financial troubles.
Going forward, we think that the 13,300 level should be a bit of a floor in this market. Certainly we see the 13,000 level as massive support, and as such we are willing to buy pullbacks that show support above that level. We suggest that the stock market should go much higher, probably through the rest of the year.
One of the most interesting things the Federal Reserve stated today was that it was willing to keep the monetary easing policy in place until long after the economy showed signs of improvement. This screams inflation down the road, but in the meantime it suggests that we will get easing for quite some time, and as such we should continue to see asset prices rise.
Looking at the chart, we can see no reason to short this market unless we fall below the 13,000 level. In the meantime, we like supportive action on pullbacks, and would express our view buy trading in the futures market, larger blue-chip stocks such as Caterpillar, and most likely in some of the ETFs that are available out there. CFDs also offer the ability to place a directional bet in this marketplace with a smaller amount of money if you are outside of the United States.