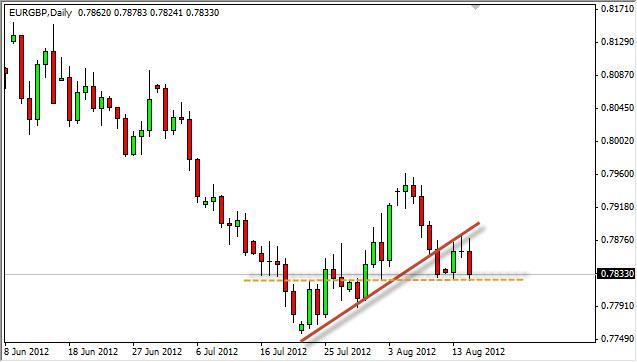 The EUR/GBP pair found itself falling on Wednesday after forming a shooting star on Tuesday. The pair had popped in order to find the bottom of an up trending line that had formed over the previous weeks. This was classic technical analysis, and as such this move was expected if you read our report yesterday.
The 0.7825 level has held as support though during the session. This level will have to be overcome to the downside in order for the bearish momentum to continue, but we do think that it eventually will. The market has been overly bearish the Euro, and there's no reason to think that that is going to change. Granted, there will be occasional pickups and bounces, but the trend is most decidedly to the downside in this marketplace, and that would of course make sense with all the problems in the European Union at the moment. Adding to the sentiment is the fact that Mervyn King of the Bank of England has recently stated that further monetary policy wasn't necessary in the United Kingdom.
We can see that the recent lows at 0.7750 of course should offer some type of support, and we would expect a bounce from that level if we get that low. However, we have recently had several bearish flag that eventually suggested a move down to the 0.75 handle, and we don't think that that kind of move is unreasonable. In fact, it is essentially what we're counting on because of these massive negative sentiment surrounding the Euro.
As for buying this pair, we would have to be well over the 0.80 level as we think that is exactly what it would take to show a significant momentum change. It also would take some type of good and permanent positive news out of the European Union for us to be confident enough to buy the currency. In the meantime, we will continue to sell rallies and a break of the 0.7825 level. We think that this pair, although a very slow one, should prove to be a very steady performer for sellers over the next several months.