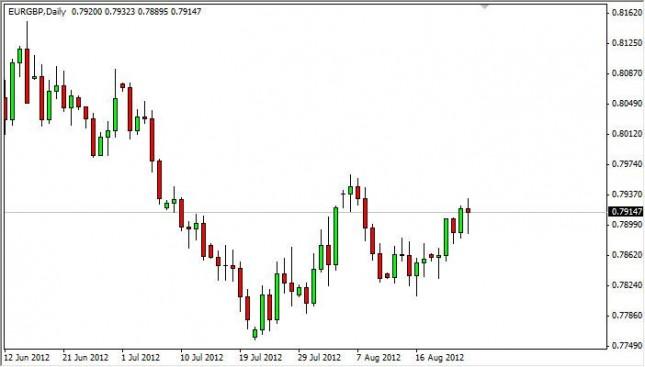 The EUR/GBP pair fell during much of the session on Friday but bounced in order to form a hammer. The hammer is anchored at the 0.79 handle, and as such it looks like the pair is trying to climb again. On a break of a new high which we see as 0.7950, it looks like the 0.80 level will be tested.
Interestingly enough, the British pound had a very poor showing on Friday, as it fell to the 1.58 level against the US dollar. This was the area that it broke out of, and as such it looks like we have to wonder whether or not the British pound will continue the move higher. In a roundabout way, the 1.58 level in the GBP/USD pair is probably the most important technical level in the EUR/GBP pair at the moment.
Because of this, we still have to look at the bigger picture. We see the 0.80 level as massive resistance, and will more than likely wait until we get well above that level before we consider buying even though we see the supportive action currently. It isn't that we don't think this pair can rise over time; it's rather that we prefer to take simpler trades. This is a currency pair that looks like it could be trouble and choppy over the near term. In other words, there are many easier trades to be involved in.
These two currencies will be an interesting study though, as the problems in the European Union continue, and the United Kingdom is so heavily exposed to that region. There is a lot of financial risk to the British banks in the European Union currently, and as such these two currencies are somewhat tied together.
Also, they are number one trading partners with each other, and as such as one goes so does the other eventually. We think that this will be very choppy pair to trade in the near term, and as such may very well remain flat. As for longer-term plans, we still think the downtrend should win out, but it will certainly be a bumpy ride.