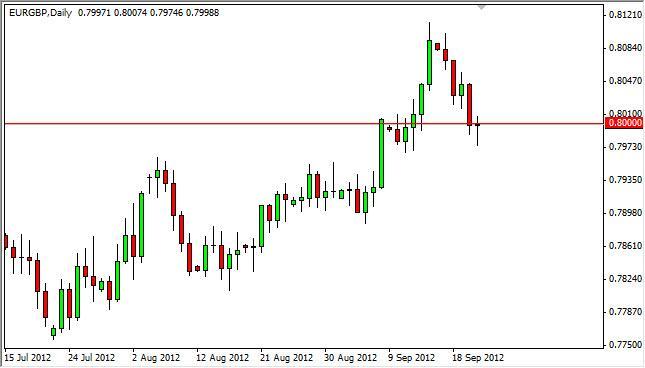 The EUR/GBP pair fell below the 0.80 handle during the session on Friday, but managed to bounce from the 0.7980 level in order to form a hammer that is centered around the previously mentioned 0.80 level. The hammer suggests that we are going to bounce from this level, and recent action on the longer-term charts suggest that the area between 0.80 and 0.81 should offer quite a bit of action in this pair.
The British pound is quite strong recently, but we feel that more market participants are paying attention to the Euro overall. Because of this, we don't necessarily think this pair is going to skyrocket in value, but it does look ready to bounce back up towards the recent highs. The real question then becomes whether or not we can break above that level.
If we managed to break down below the hammer that was formed on Friday, at that point time we would actually consider selling this pair as the overall trend is still down despite what the recent action has been. Also, the European the Central Bank is going to have to do something to devalue the Euro sooner or later, as well as do something about the interest rates in that region. This is quite a contrast from the Bank of England, which has stated recently that it is quite happy with its monetary policy and sees no reason to loosen it up.
In this particular situation, it is only a matter time before the interest-rate differential favors the Pound by quite a bit more than the Euro. In that particular scenario, we would expect this pair to continue to fall. However, the technical set up right now does suggest that we are going to bounce. For a short-term trade, a break above the highs from the Friday session technically clears the way for return to the 0.81 handle.
We don't necessarily want to hang onto this trade for too long, as we see potential trouble coming out of the European Union sooner or later. After all, there hasn't been a bad headline out of that region for a couple of weeks now.