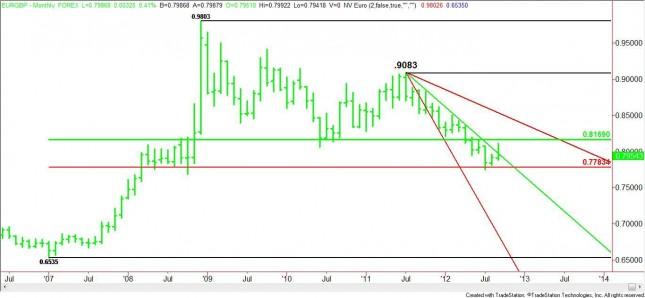 The announcement by the European Central Bank to provide stimulus to the Euro Zone helped boost the EUR/GBP early in September, but this euphoria wore off when buyers disappeared at .8114 on September 14. The subsequent sell-off into the end of the month suggests that the market may be poised for further weakness in October. 
Looking at the bigger picture, the main range is .6535 to .9803. This range developed between 2007 and 2009 so it represents major price action. The retracement zone created by this range is .8169 to .7783. For the past three months, the EUR/GBP has been trading inside of this retracement zone. A breakout over .8169 will be bullish and a move through .7783 will signal weakness. 
Also guiding the market lower is a downtrending Gann angle at .7883. The market briefly penetrated this angle to the upside, but fell back below it into the end of the month. The failure to follow-through to the upside was a sign that shorts were still covering rather than new money entering. 
If sovereign debt issues persist in the Euro Zone and rumors about an impending recession continue then look for the EUR/GBP to remain weak throughout October.