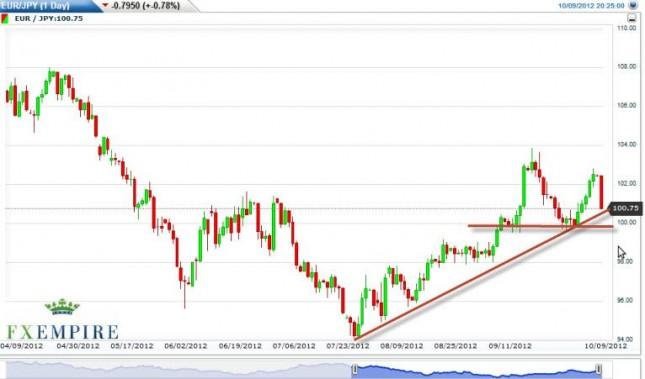 The EUR/JPY pair fell precipitously during the session on Tuesday as the market even managed to close below the 101 handle. The close for the day was at the bottom of the range for the session, and as such this of course suggests that we will see continuation today.
The 100 handle represents a significant support level to us. We also see this extending all the way down to 98 to some extent, but the more aggressive traders will certainly be shorting this pair as it breaks the trend line that it is currently sitting on. Because of this, we could see a really celebration to the downside, and of course it will completely depend on the risk appetite of global traders.
Speaking of this risk appetite, this pair does tend to follow that more than anything else. With fears in Europe coming back into the forefront, it makes sense of this pair fell. The real question now becomes whether or not the 100 level can hold as support. It has to be stated that the most recent high is lower than the one before it, which of course is a classic sign that the upward momentum is starting to fall.
If we get a daily close below the 100 handle, we will more than likely start selling a small position as there will be remnants of support below there. However, this would have triggered the first of our potential sell signals, which of course is the breaking of the trend line. The question then becomes whether or not the Bank of Japan does anything this week during its meeting to devalue the Yen. We don't think that anything that the central bank in Tokyo does will have a permanent effect, so we think that any knee-jerk reaction can also be an opportunity to sell. This of course is based upon the premise that we did break the 100 handle before, or at least the trend line that were paying attention to. As for buying this pair, we need to see a massively supportive candle at the 100 level in order to be tempted.