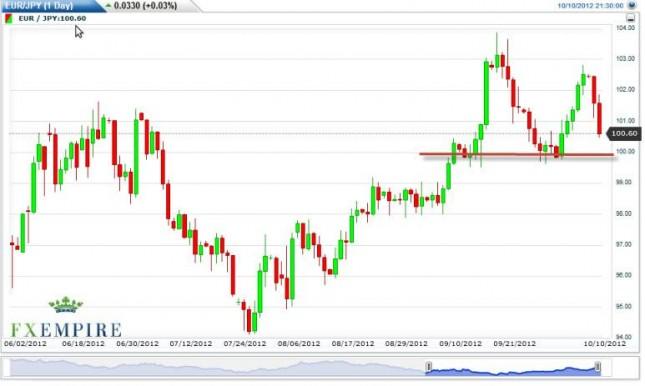 EUR JPY fell during the session for the second day in a row on Wednesday as the risk appetite disappears from the marketplace. However, we have the 100 level just below, and this should be very supportive. Nonetheless, this market does look a little bit suspect as we have started to break down through trend line, and of course have made a lower high over the course of the last couple of sessions.
With the European debt situation seemingly going nowhere, and the fact that this is a risk barometer type of currency pair, it does make sense of this market continues to fall. It should be noted however that there is a lot of support at 100, and that support extends all the way down to 98. While this pair could continue much lower, it will be a grind in this general vicinity.
We would begin to start selling below the 100 level, knowing that these markets will more than likely bounce around. With that in mind, we would do it with a small position as the volatility could cause issues. If we managed to get below the 98 handle however, we would become aggressive sellers of this market and right that move down to the 94 handle, which was essentially the lows that we hit earlier in the year.
All that being said, there is a strong chance that this pair is simply going to be too volatile to hang onto any length of time as far as trading is concerned. This they simply are a day traders market because of all of the possible support areas that we've see on the way down.
Alternately, we see a possibility of seeing a buy set up near the 100 level, and as such we are more than willing to buy this pair on supportive candles. We know that the Bank of Japan is working against the value of the Yen, and most certainly the traders out there seem to be willing to buy risk in the face of so much quantitative easing from several central banks.