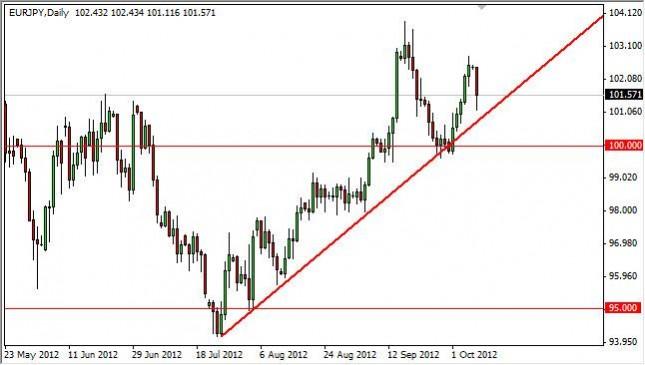 The EUR/JPY pair fell for most of the session on Monday, but, little bit of a bid at the 101 handle. This also coincides with the rough idea of an uptrend line, and as such it does look like this pair is trying to continue to gain going forward.
The 100 handle looks like the floor in this market to us, and as such as long as we are above that we are not comfortable being short. The Euro should continue to gain against the Japanese yen as the Bank of Japan looks to weaken its own currency. However, there are troubles in Europe and with the financial ministers meeting later today; there could be headlines that rock this pair back and forth.
With that being said, we think the longer-term outlook for this pair is most certainly to the upside. Because of this, we are looking for daily close is that suggest support such as the hammer candle, or large-screen ones that appear from time to time. We think that the 101 handle should continue to offer a bit of a buffer down to the 100 handle, and as such we would not be surprised to see that supportive candle in the next day or two.
Even though we think this pair should continue to rise, we certainly can't act upon what we "believe" will happen. We need to get that confirmation candle, and that's essentially what we will be waiting on. Most of the market right now seems to favor the Euro, so would make sense of this pair would continue rising. Add to that the fact that the Bank of Japan has a meeting later this week where they will more than likely announce and expanded monetary easing policy, and we should see much higher prices in the relatively near term.
Looking at the longer-term charts, we see the ability to run as high as 105, and possibly even 110 before we run out of steam. Granted, no pair goes in one direction forever and there will be pullbacks, but if you are diligent and tenacious enough you should realize profits on the long side.