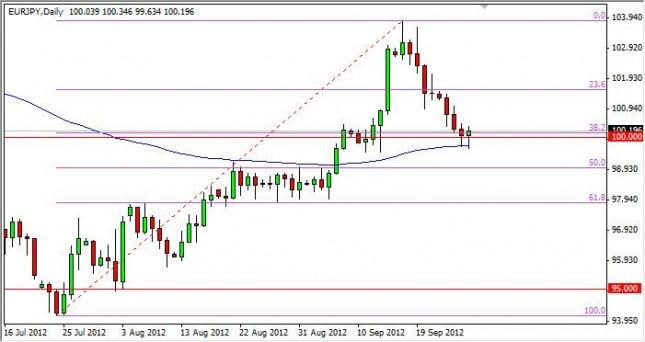 The EUR/JPY pair fell during much of the session on Thursday again, but bounced just like it did on Wednesday in order to form a hammer. With more important about this is that it has form that the 100 handle, and of course this will attract a lot of bigger money traders as it is a large round number.
Also, you have to keep in mind that the Bank of Japan is working against the value of the Yen overall, and as such they certainly won't hesitate to help this trade if it needs it. Also, these two hammers are essentially at the trend line way up from last summer, and as such this is a point of inflection for the buyers.
And finally, we have the 100 day moving average sitting just under these two candles, as well as the 38.2 Fibonacci ratio supporting the current level. Needless to say, this is a plethora of reasons to think that this pair could go higher.
With the Spanish and Greek governments seemingly ready to take on more austerity to receive the aid packages that they want, it appears that the markets are ready to give the Euro a break. The natural state of things seems to be that the markets want to rally as soon as there's any hint of a solution in Europe. This has been the case for the last couple of years, and there is no reason to think that is going to change now.
The 100 level is essentially one of the most important levels on this chart. Is the site of a serious breakout that happen a couple of weeks ago, and now we are retesting it for support. Looking at the longer time periods, it appears that a move from here could easily reach the 105 handle, if not the 110 handle. If that's the case, this really has quite a bit of room to the upside to go.
As for selling this pair, even a break of the two hammers in a row would be enough for us to do it. We see quite a bit of support below at the 99 handle, and it wouldn't be until we were below the 98 handle that we would feel comfortable selling.