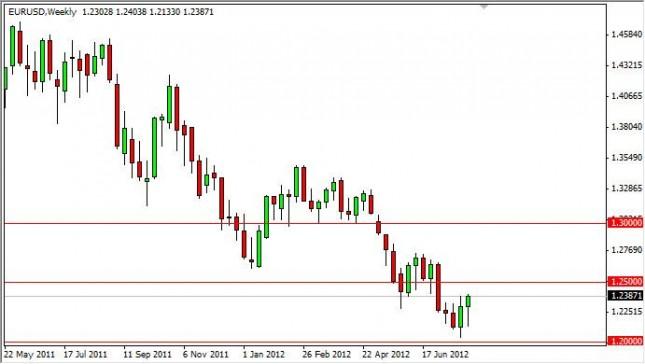 The EUR/USD pair managed a wild recovery on the Friday session as the market gained over 200 pips during the day. The Friday nonfarm payroll number of the United States put a bid back into the market for risk assets, and as such this pair rose. Looking at this chart, we could see that this previous week has formed a hammer, and this of course looks very supportive.
However, it should be noted that the 1.25 level is just above and is the center of the massive cluster. Is because of this that it is hard to buy this pair for a longer-term trade at this point in time. Simply put, the 1.27 level is about where we start to see resistance fade a bit. With that in mind, it's going to be very difficult to go long at this point in time.
You will undoubtedly hear the Euro bulls going nuts this coming week, but the truth is that the pair is still extremely be down. There is talk of action coming out of the European Central Bank, but any action should eventually weaken the Euro. Whether or not the Federal Reserve chooses to ease will be very crucial in this market, and with the better than expected 165,000 jobs added in America last month, it looks as if the Federal Reserve easing isn't necessarily a given at this point.
With that being said, the next nonfarm jobs number will be extremely important, even more important than the one we saw on Friday. With this, we will continue the choppiness that we've seen in this market over the last several months. We do not expect any clean moves to either direction at this point in time.
There is a case to be made for a down trending channel at this point. If this is the case, then we are simply bouncing from the bottom of that channel, and looking for some type or resistance to fall back down from. This actually lines of pretty close to the 1.27 area if we extended out from the expected move. If that's the case, we should actually see a very nice shorting opportunity in the relative near future. However, we don't see the opportunity to sell the Euro in the upcoming week, and certainly don't want to buy into resistance at this point in time. This chart is deceptive in its bullish projection, and as such this is why we choose the future this pair. Simply put, this is going to be a great market in which to lose money for the next several weeks.