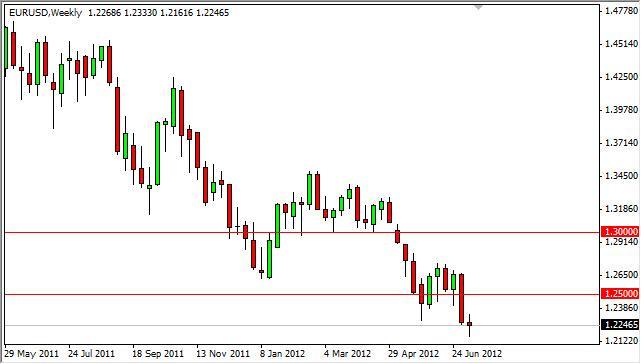 The EUR/USD pair had a negative week over the last five sessions, but at the end of the week we saw buyers step in to support the common currency. The market certainly was oversold the previous week, and it is important to notice that the 1.22 level has held as support. The weekly candle is a bit of a doji, so it does suggest that there is indecision.
The great thing about this candle is that it gives us a clear trading set up. If we break the top of that, we feel that we will attempt to reach the top of the recent consolidation area at the 1.2650 level. If we break the bottom of this candle, we feel that this pair goes to 1.20 and relatively quick order.
For the longer-term trader, this is a good candle to be paying attention to for future direction. The trend is obviously to the downside, so we are will willing to be much more patient with our trades if we sell as opposed to buy. This means a larger stop loss orders, but this will allow us to take care of our position by following the overwhelmingly negative trend. As time has proven again and again, selling the euro is by far the safest position to be in.
With this being said, if we do get a buy signal we are willing to take are profits when we reach the target. As for selling, we are willing to move to breakeven once we hit the 1.20 level, in order to allow the trade to perhaps break below it. There was a bearish flag that had been broken down on the daily chart that suggested that we are going to 1.15 or so. This is the main reason why we are willing to let sell orders get a little bit more room to breathe.