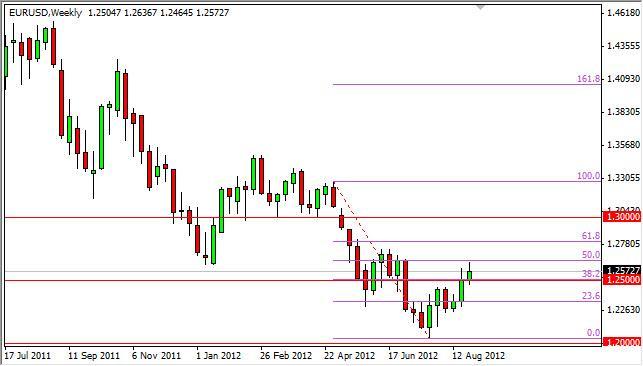 The EUR/USD pair rose during the previous week over the last five sessions in order to break to fresh new highs, but failed in the end and formed a shooting star at a very interesting spot. In fact, the top of the shooting star is at the 50% retrace from the fall of this currency pair in late spring.
It is because of this that the Euro has suddenly caught our attention. The US Dollar Index looks very supportive all of a sudden, and this pair reacted very strangely to the Federal Reserve Chairman's speech at Jackson Hole on Friday. It essentially spiked once he mentioned that the Federal Reserve could begin to buy U.S. Treasury's again, but gave up half of the gains by the time the markets closed. This shows a severe lack of confidence in the Euro overall.
This area is also interesting because it is the start of a massive fall from early June as well. We have essentially made a round-trip from that point, and then of course formed a shooting star which is always bearish. Because of this, we are more and more convinced that the 1.24 level is going to be massive in its importance for the future direction of this currency pair. If we can get below that level, we should see much lower exchange rate between these two currencies.
There are some fairly important dates coming up in your of during the month of September, and as such we could see this pair make a very sudden and deliver it move based upon either the September 6 ECB meeting, or the September 12 Dutch election results as well as the German High Court ruling on the constitutionality of several European Union proposals. Simply put, the second week of September is when we should finally have some type of clarity.
We overall think that the Euro needs to be much lower for not only the sake of the Europeans who need a cheaper currency at the moment, but the fundamental reality that the ECB will have to do something along the lines of easing in the near term. In fact, they probably need to much more than the Federal Reserve.