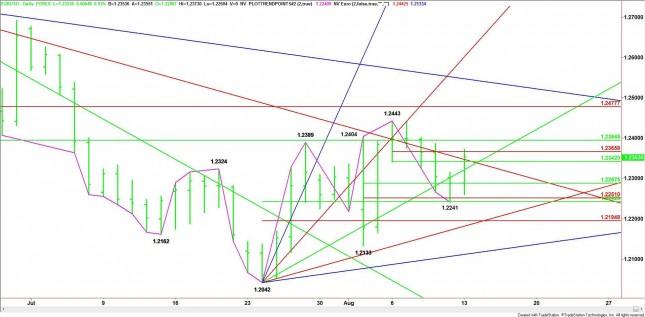 The EUR/USD is trading higher at the mid-session but starting to give back gains as demand for higher-risk assets appears to be waning. The Euro weakened earlier in the session after European Central Bank Governing Council member Luc Coene reportedly said bond purchases won't solve Spain's and Italy's economic struggles. After retreating, the Euro turned around following reports of a well-received Italian Treasury Bill auction.
Technically, the Euro is in an uptrend on the daily chart. The trend turned higher close to two-weeks ago after positive comments from European Central Bank President Mario Draghi triggered an impressive short-covering rally. Although the market declined after reaching a key retracement zone last week, traders supported the Euro following a sharp decline on Friday.
The movement of the Euro is currently being controlled by a pair of retracement zones. This is giving the market its short-term choppiness. The first zone is providing support at 1.2251 to 1.2242. After establishing support late last week at 1.2241, the market is trading higher today. Based on the short-term range of 1.2443 to 1.2241, a new upside target zone was created at 1.2342 to 1.2366.
This zone was tested today when the market traded up to 1.2373 before pulling back ahead of the mid-session. Today's test of a Fibonacci level is important because if resistance is established at this price, the market may begin to rollover to the downside. A close above this level will indicate strong buying and another test of 1.2443.
On the weekly chart, the main trend is still down. This may be another reason for the two-sided trade over the past two weeks. Weekly resistance this week is at 1.2427. This price is slightly below the last main top on the daily chart at 1.2443. The weekly charts still indicate that a support base has to be formed before the Euro can mount a formidable challenge of the major tops.
The choppy two-sided trade on the charts represents trader uncertainty triggered by the lack of clarity from the European Central Bank. Two weeks ago, Draghi made it sound like the ECB was poised to immediately begin the purchase of Spanish and Italian bonds. But this hasn't been the case. The central bank is still waiting for these two countries to make moves to shore up their finances before tapping the European rescue fund. Once this is accomplished, then the ECB is expected to begin purchasing bonds in an effort to drive down interest rates.
There is a bullish tone developing based on speculation that the ECB will act soon. As we saw last week, however, this sentiment could shift to bearish quickly.