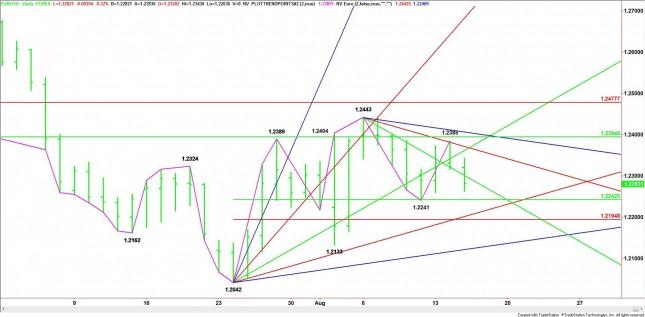 The lack of clarity from the European Central Bank coupled with a stronger U.S. Dollar is encouraging traders to pare their long positions in the Euro. This action is threatening to derail the uptrend on the daily chart that was created about three weeks ago when European Central Bank President Mario Draghi vowed to do "whatever it takes" to support the Euro. Since then short traders have been covering and speculators have been buying on the belief that the central bank would begin purchasing Spanish and Italian bonds.
This commitment to the long side appears to be waning as traders now believe the ECB will late later rather than sooner as long as interest rates in Spain and Italy remain stable. Furthermore, Tuesday's stronger-than-expected U.S. Retail Sales report suggests that the Federal Reserve will also hold back on its decision to stimulate the economy. This is supporting a higher dollar.
Technically, the main trend is up on the daily chart because of the higher-top, higher-bottom formation; however a trade through 1.2241 will turn the main trend back down. On the upside, a new secondary lower top has formed at 1.2389, perhaps indicating that short-sellers are regaining control of the market.
Conventional chart analysis indicates that the main resistance is a retracement zone at 1.2395 to 1.2478. On the downside, based on the range of 1.2042 to 1.2443, a new support zone has been created at 1.2242 to 1.2195. Both retracement zones have placed major roles in stopping rallies and breaks over the past three weeks.
Even if the trend changes to down, the lack of selling momentum coupled with remaining optimism could trigger another short-covering rally. At this time because of the lingering threat of additional stimulus, investors may be content with holding the EUR/USD inside of a wide range. My current short-term assessment is based on how the market reacts in the support retracement zone.
If traders are hesitant to sell weakness, then the Euro may shift abruptly to the upside. If there is conviction behind the next wave of selling, then the Euro is likely to plunge sharply lower. Draghi's statement to support the Euro is still carrying a lot of weight so bearish traders may be reluctant to aggressively sell the currency on weakness.